10+ Best Christmas Towns to Visit with Your Kids
Holidays with kids is all about magic, twinkling lights, and meeting Santa and Mrs. Claus. Some towns are especially famous for their holiday's celebration vibe, so you can make wonderful memories with your family.
Are you scrambling to find the best Christmas towns to take your kids to during the holidays? To make matters easier on you, we've compiled a list of the best Christmas towns to take your kids to this holiday season, so you don't have to find them yourself!
Use this navigation table to read more about a specific destination.
1. Helen, Georgia, USA
Helen, Georgia is a picturesque German-inspired Christmas town known for its Busch Gardens-style buildings and decorations. According to some Gowhee members, it is the #1 Christmas town USA!
Located in the Blue Ridge Mountains, this Christmas town has plenty of fun things to do for families and places for kids to enjoy this holiday season. For example, you and your kids can witness the Lighting of the Village. This event occurs towards the end of November to kick off the holiday festivities.
Kids will especially love stopping by a town's staple, Hansel and Gretel Candy Kitchen! Filled with candy and other homemade treats.
Another activity your kids will love is the Christkindlmarkt, a German-inspired shopping experience. You can find everything from unique souvenirs to festive candy treats for the whole family!
2. Rovaniemi, Finland
Going to Rovaniemi, Finland is a guarantee to put you in the holiday spirit! Did you know that the town itself is called the "Official Hometown of Santa Claus"?
The town is located near the North Pole which makes it a true winter wonderland. Plus they are doing a great job at setting up festive activities for families. For example, you and the kids can go on an Aurora Hunting Tour to find the Northern Lights in the sky!
Another fun activity for kids is a sleigh ride pulled by huskies or reindeer! Finally, you and the kids can cross the Arctic Circle since this town is located near the North Pole!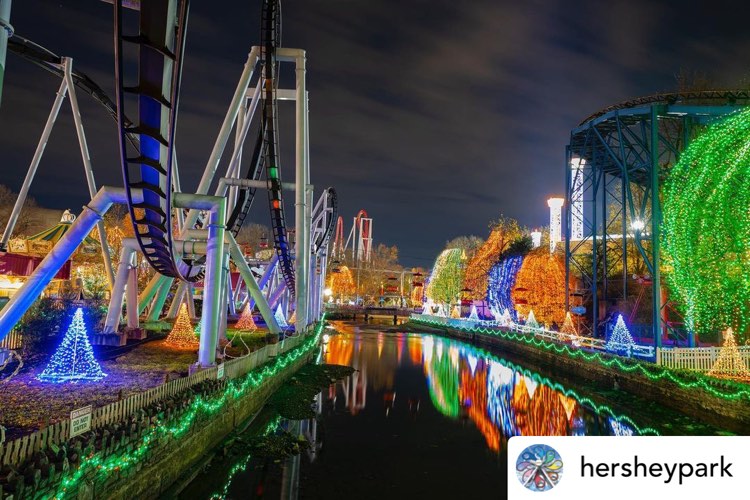 3. Lancaster, Pennsylvania, USA
Lancaster is magical all year long! We have heard that you can smell chocolate cooking in the nearby chocolate factories while taking a walk in town. So it is no surprise that you will find many ways to celebrate the holidays with kids there!
Celebrations start early in Lancaster, and they carry to New Year with a fantastic show! There are really fun things to do with kids like a scooter ride with Santa or enjoying a petting event with Santa and goats.
If you are in town for the season, you will need to spend a day in Hershey Park of course! With over 5 million lights decorating the park and amazing things to see like the "kisses fountain", the whole family will leave with wonders in their eyes.
If your kids are older and you feel a little adventurous, Lancaster has a very unique drive-thru Christmas light show. Every year the Refreshing Mountain zip-lining course puts on their Christmas spirit and gives back by organizing a donation-based drive-thru show, as well as offering zip-lining fun.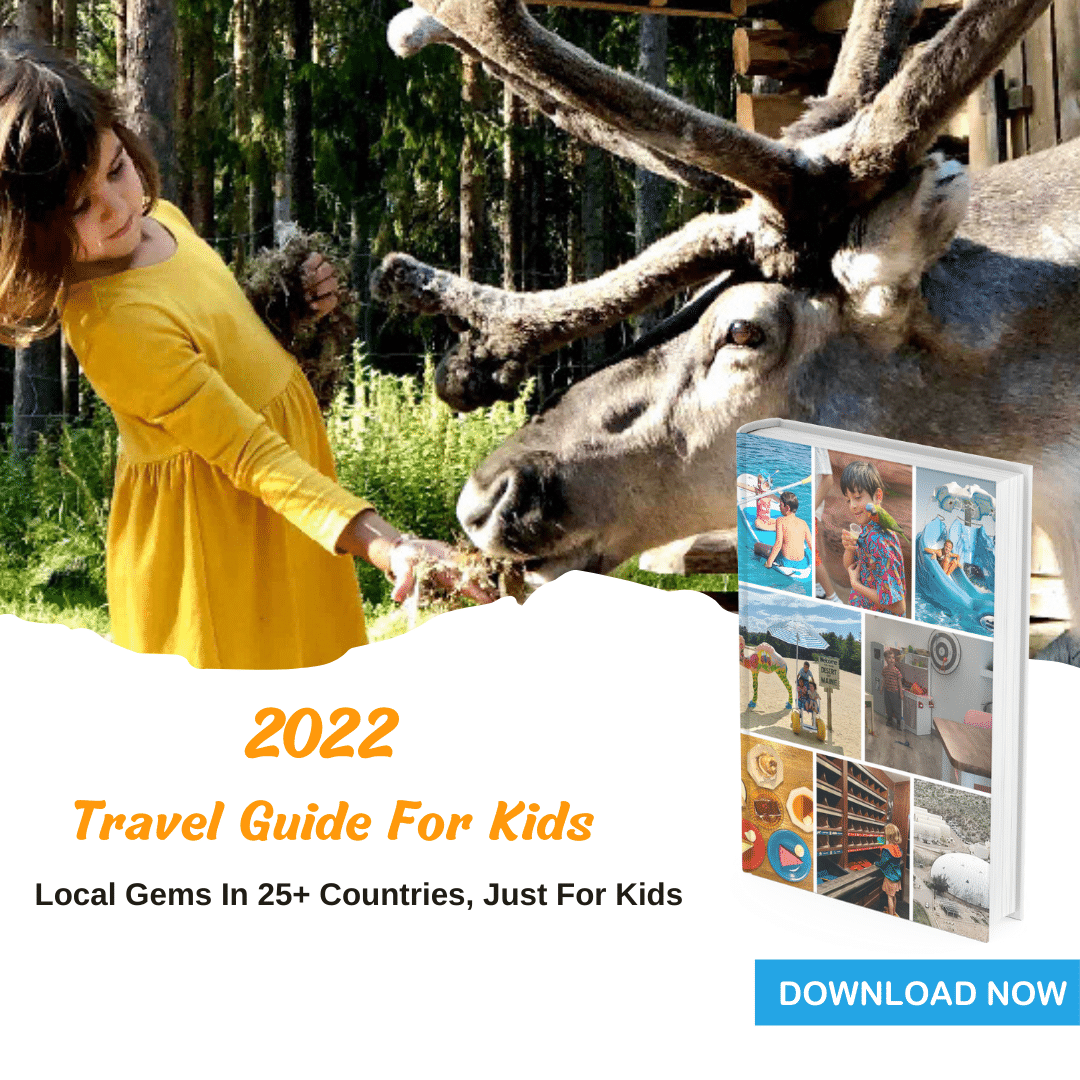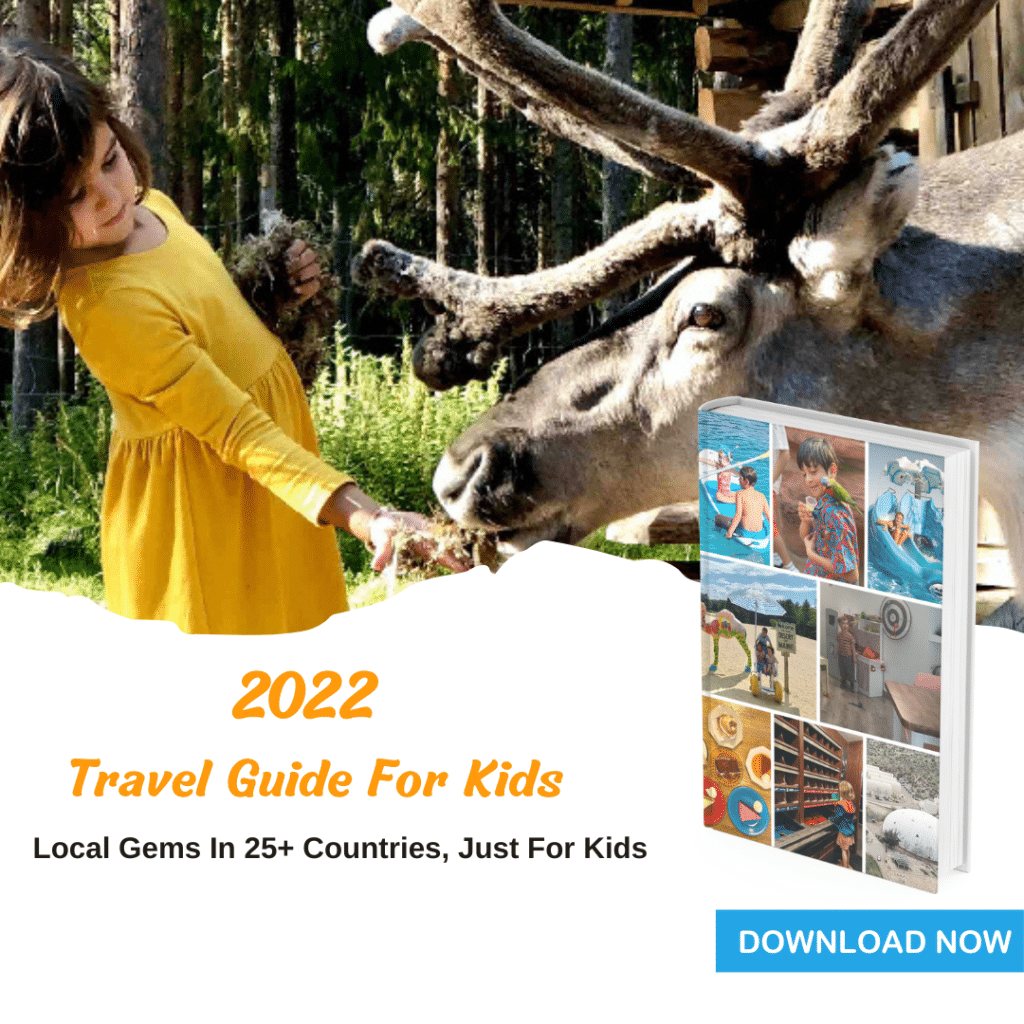 FREE 2022 World Travel Guide for Kids
Join our community and receive our 2022 guide of local gems for kids in 25+ countries. You will get free itineraries for kids, travel tips weekly, right in your inbox.
Psst… We don't spam our people, we don't share your info!
Need to find fun things to do with kids?
Find places for kids near you or around the world in seconds. 
Gowhee App is the perfect tool to keep the kids busy and parents happy!
Try Gowhee App Now
Discover scenic drives, great salt lakes, and kid-friendly ski resorts....
Read More


Find kid-friendly locations in 50+ countries and more added daily...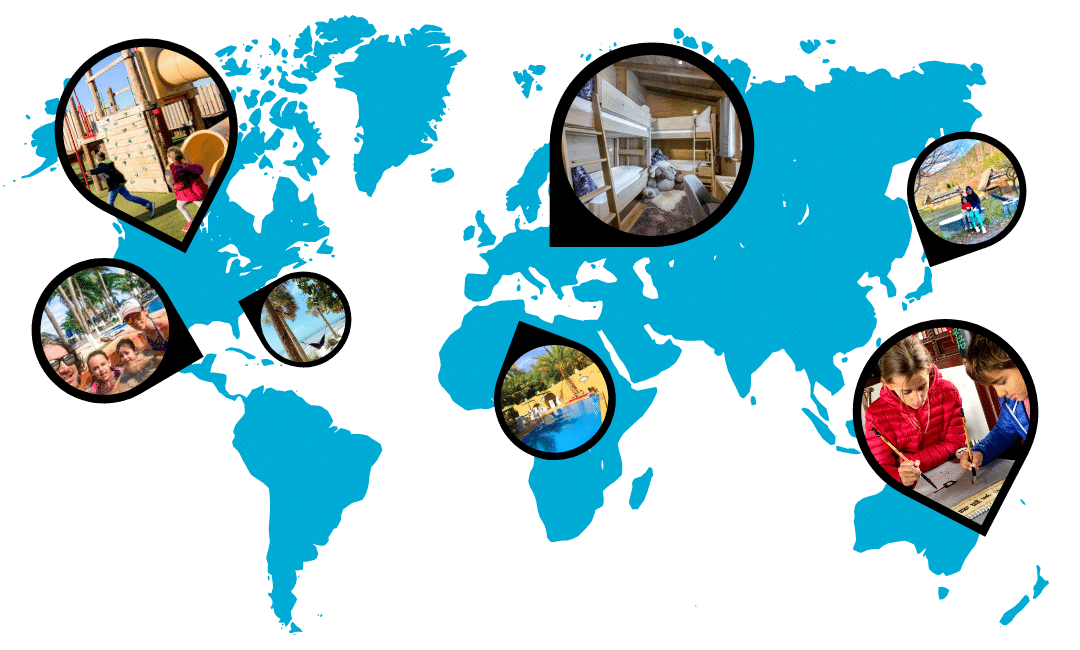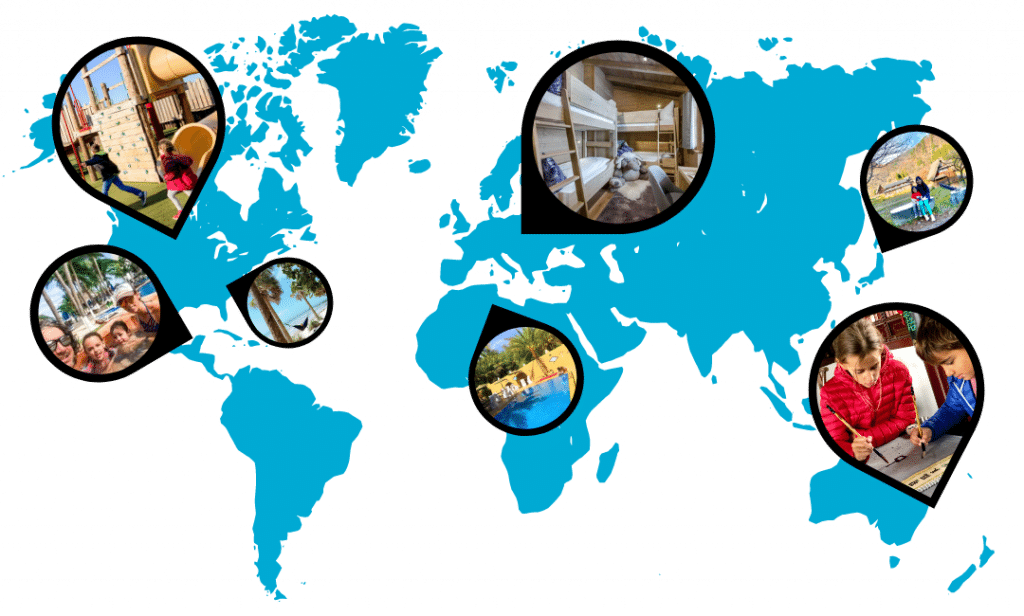 The Gowhee network is present in 50+ country already such as the United States, Mexico, Canada, Costa Rica, France, U.K, South Africa, Australia, Japan, Croatia, Greece… all locations are added by parents themselves. 
4. Manchester, Vermont, USA
This real-life Christmas town is a snow-covered winter wonderland of festive fun! Located near many ski slopes, this small town offers many great restaurants, a beautiful old-school bookstore with tons of toys, and a beautiful park with a waterfall.
Kids will enjoy the train ride called the Elf Express departs from the R.K. Miles Depot Station. Inside the train, elves and Santa walk through the aisles spreading the holiday spirit and treats to the passengers!
Don't miss the Lighted Tractor Parade that usually happens at the beginning of December! If you're looking for a crafty activity to participate in, you and the kids can attend one of the Christmas workshops at the local art studio in town.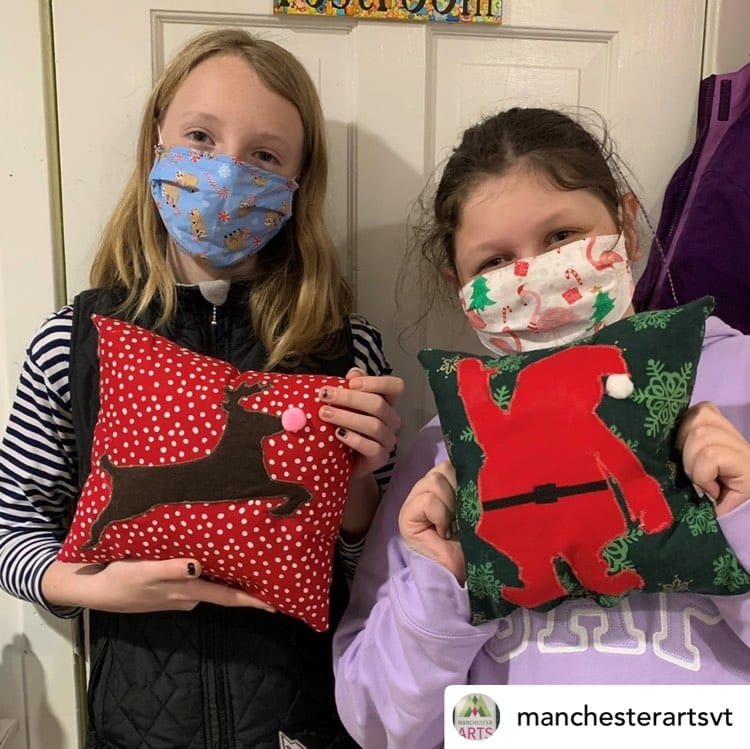 5. Rothenburg ob der Tauber, Germany
Rothenburg ob der Tauber, Germany, is one of the best Christmas towns to visit with your kids because it offers many festive kid-friendly activities!
The Christmas Market is one of the main reasons families travel to this town. There are hundreds of vendors providing festive holiday gifts and delicious food. But if you are in town for the holidays, do not miss the live music every evening and weekend, where a brass band plays music in the main Market Square.
Another fun activity for kids is going to the Christmas museum, where you can learn all about German Christmas traditions, the commercialization of Christmas, and the origin of Santa Claus!
If you are looking for a kid-friendly coffee shop in Rothenburg ob der Tauber, you can head over to Cafe Lebenslust. They offer delicious cakes and pastries, in a layback atmosphere, while providing toys to keep kids busy.
6. Riga, Latvia
Riga, Latvia, is one of the most unique Christmas towns to take your kids to during the holidays.
The town claims to be the birth of the first decorated Christmas tree over 500 years ago. Moreover, every year, the Art Academy puts up extraordinary tree lighting ceremonies, with nontraditional Christmas trees made out of materials like wood and glass.
Riga also hosts a Christmas market filled with unique vendors offering sentimental treats and gifts every year. The Christmas market also has a carousel with wooden animals for your kids to ride on! If your kids are big animal lovers, they can pet barnyard animals and play with giant rabbits at the Christmas market!
Finally, you can see the Riga Castle or the Latvian National Museum of Art if you want to visit somewhere other than the Christmas market.
7. Prague, Czech Republic
Located in Central Europe, Prague is a Christmas town painted in a blanket of snow that will make this Christmas season even more memorable.
You and your kids can take a walk along the Vltava River to see the city's holiday lights, go to the local Christmas market, or get some hot cocoa at Cafe Slavia!
If you're looking for a sit-down activity, you can take your kids to the Nutcracker Ballet. Prague is known for its long history of musical performance, so you don't want to miss it! Keep in mind; tickets sell out fast, so you need to book ahead of time.
If you are looking for a place to get dinner, kids will fall in love with this unique restaurant: Vytopna Railway Restaurant. Although their burgers are delicious and the staff is super friendly, this kid-friendly restaurant is known for serving drinks in a fully operating mini-train rail cart.
Finally, taking your kids on a relaxing river cruise is a great way to get out and see the sights! Don't worry about the cold; the cruise provides heaters, so you can stay warm on your journey down the river!
8. Quebec City, Quebec, Canada
Quebec City is a wonderful place to visit during the winter (and especially during the Holiday season). You'll have the ultimate winter wonderland with snow everywhere and many things to do as a family.
If you are looking for tiny cobblestone streets with a European charm. Quartier Petit Champlain carries a magical atmosphere all year round, but even more during Christmas time.
Kids can meet Santa himself at Félix Leclerc park and then head over to 'La Petite Cabane à Sucre' and try the maple syrup 'tire', a must-try when visiting Quebec!
Old Quebec also holds a beautiful German Christmas market in the heart of the historic center. There are multiple stands from Château Frontenac to the Place d'Youville. It's a great opportunity to put some layers on and beat the cold with some hot chocolate or mulled wine for the adults.
Stroll in the Rue St-Jean from Château Frontenac, to find the perfect restaurant for dinner, but not before you stop at the ice rink of Place d'Youville. You can rent some ice skate and reserve your spot here.
If you have an extra day in town, head outside the city center to Frima La Magie de Nöel where you'll be transported to Santa Claus village. 
Keep discovering more Christmas Towns for kids
Try the Gowhee App for FREE and discover more Christmas Towns all over the world.
9.Leadville , Colorado, USA
Leadville is this charming town nestled in between Vail and Breckenridge (2 hours west of Denver). It has original buildings from the 1800s, easy access to almost 10 ski resorts, and a guaranteed white Christmas!
With an elevation of 10,200 feet, the town is nicknamed 'The Cloud City', which makes for lots of snow from late November through April. However, because of its location and proximity to the sun, it stays surprisingly sunny and feels warm.
Leadville is less than an hour from Vail but offers some great budget-friendly options to ski like the Copper Mountain offers a wide variety of terrain, despite its size. You can also find tons of budget-friendly games, toys, books, winter gear, and clothes at Matchless Treasures Thrift Shop.
Although the town has fewer than 3,000 people, is extremely kid-friendly and has great food options at Katie O'Rourke's Irish Pub or Ridgeview Cafe.
The whole family will have a blast at the Durch Hendry Sledding Hill, which is free to go tubing, But if you're looking for indoor activities, you can visit Fire on the Mountain to paint pottery or pick up art supplies.
If you are 'dreaming of a white Christmas', you know where to find it. And after a day hitting the slopes, don't forget to get a warm cinnamon roll, with hot cocoa by the fire in a wood log cabin.
10. Amsterdam, Netherlands
Located in the Netherlands, Amsterdam makes a beautiful family vacation destination for the holidays.
You and your kids can go ice skating and capture some adorable family photos, go to the Amsterdam Christmas Market, or partake in festive Dutch treats!
Another fun, family-friendly activity is witnessing the Amsterdam Lights Festival. You can either walk through the city or take a canal tour packed with warm blankets and hot chocolate! Each year international artists set up over 30 displays of lighted artwork to celebrate the holiday season.
For days, where the kids prefer to stay warm, Amsterdam is filled with indoor playgrounds options like the Wondr place.
How to Use the GoWhee App to Find the Best Christmas Towns Near you?
Holiday vacations are more challenging to plan for than typical vacations, especially when you're planning on bringing your kids. For instance, you have to find kid-friendly hotels, activities, and restaurants so that the whole family can enjoy the trip.
The problem is, travel apps for kids are hard to come by, especially for international locations. So, to make finding family-friendly international destinations easier, we created the GoWhee app.
The GoWhee app is the only travel app for parents, with both US and international locations!
If you are using platforms such as Google or Trip Advisor, it can take hours to find kid-friendly activities!
With Gowhee, not only can you discover new places for kids, but you know that all the places are for kids and create bucket lists in a matter of seconds.
Thanks to the reviews left by parents themselves, you can finally experience towns like local families, hassle-free, by downloading the GoWhee app!