12 Best Christmas Vacation Destinations for Families
Christmas is one of the most wonderful times of the year. That is what the song says, right? Finding a location for Christmas vacation can be challenging if you're taking your kids. However, we've compiled a list of some of the best Christmas getaways for families that is sure to give you some festive travel inspiration!
Before you make any Christmas vacation travel plans, make sure you download the GoWhee app. You can filter for restaurants, kid-friendly activities, create and share bucket lists, and get family-friendly discounts! Make the most out of your family vacation by downloading the app today!
Christmas Vacations Destinations
Use this navigation table to read more about a specific destination.
1. Stowe, Vermont
If you're looking for a magical New England experience, look no further than Stowe, Vermont! Stowe is a quintessential town that provides families with tons of festive activities to celebrate the Christmas season.
For example:
You can go skiing, hiking, participate in town events!
You can head into town and take pictures with Santa, witness tree lightings, enjoy the lights and decors,
and go ice skating at Spruce Park!
If skiing is not for you, we still recommend considering Vermont. You will find small towns with tons of kid-friendly breweries, wineries, and farm-to-table restaurants to enjoy. Besides being a foodie's dream, the area has a ton to offer. Kids can partake in a famous tradition of eating snow (make sure it's white and fresh!), while adults enjoy all the charming boutiques and art galleries filling up the towns across the green mountain state.
Discover tons of kid-friendly places to visit in Vermont here.
2. Leavenworth, Washington
Located along the towering Cascade Mountains, the German-inspired town of Leavenworth, Washington will make you feel like you walked right into a hallmark movie. Leavenworth, WA is a quintessential Christmas vacation destination in the united states. amongst other things, you can go shopping at the famous Christkindlmarkt or take a sleigh ride through town!
But one of the best ways to get into the Christmas spirit and feel the magic of the holidays is to visit the Leavenworth Christmas Lighting Festival.
The festival is hosted along the main downtown road, with a countdown every weekend in December to light up the two with half a million lights. During the week, the town is still lit every evening at dusk.
You can catch a glimpse of St. Nikolas, hear carols sung by the Village Voices Choir,
and visit Santa's reindeer at the Leavenworth Reindeer Farm.
 Do not forget to enjoy all the German treats you desire!
The lighting festival is one of the most popular times in Leavenworth. Expect crowds and for hotels to book up well in advance.
If the main hotels are sold out, a great option is to stay a half-hour drive away in Wenatchee.
3. New York and Brooklyn, New York
New York City is an iconic Christmas vacation destination for many families who wants to dive right into the holiday spirit.
Why? It is the city that never sleeps after all!
For instance, you can go ice skating and sledding in Central Park. We recommend sticking with Cedar hill if you have little ones and toddlers.
You can't visit NYC during the holidays without going to see the Radio City Music Hall Christmas Spectacular, or watch the lighting of the tree at Rockefeller Center!
When in NYC you will probably spend a lot of time in Manhattan, but take the time to explore! Brooklyn has a ton to offer for families, from indoor playgrounds to kid-friendly museums, and more.
Brooklyn hosts the must-see Dyker Height Christmas lights display, where the whole neighborhood becomes a magical place.
You will be able to walk through, drink hot chocolate, and help local charities all at once.
The food scene in Brooklyn is also amazing across the bridge. Take a break from the cold at Brooklyn Crepe on Flatbush ave, and try their warm Nutella crepe, or grab dinner at some of the best kid-friendly restaurants.
4. Jackson Hole, Wyoming
In Jackson, Wyoming, in the shadows of Grand Teton National Park's majestic peaks, is a verified winter wonderland.
Jackson Hole is named for the giant valley which looks like a hole in the surface of the earth; no wonder it's one of America's most gorgeous landscapes.
The Jackson Hole Mountain Resort makes the most of the valley's steep hills, and offers thrilling skiing, snowmobiling, snow tubing, and more…It's perfect for a Christmas trip, you can take your kids on the National Elk Refuge Sleigh Ride,
Plus, it's very easy to fly into Salt Lake City, then take a bus into Jackson. 
And if you prefer to stay warm and cozy with the kids, go shopping at the Holiday Bazaar, or see a Christmas movie at MovieWorks!
Need to find fun things to do with kids?
Find places for kids near you or around the world in seconds. 
Gowhee App is the perfect tool to keep the kids busy and parents happy!
Try Gowhee App Now
Discover scenic drives, great salt lakes, and kid-friendly ski resorts....
Read More


Find kid-friendly locations in 50+ countries and more added daily...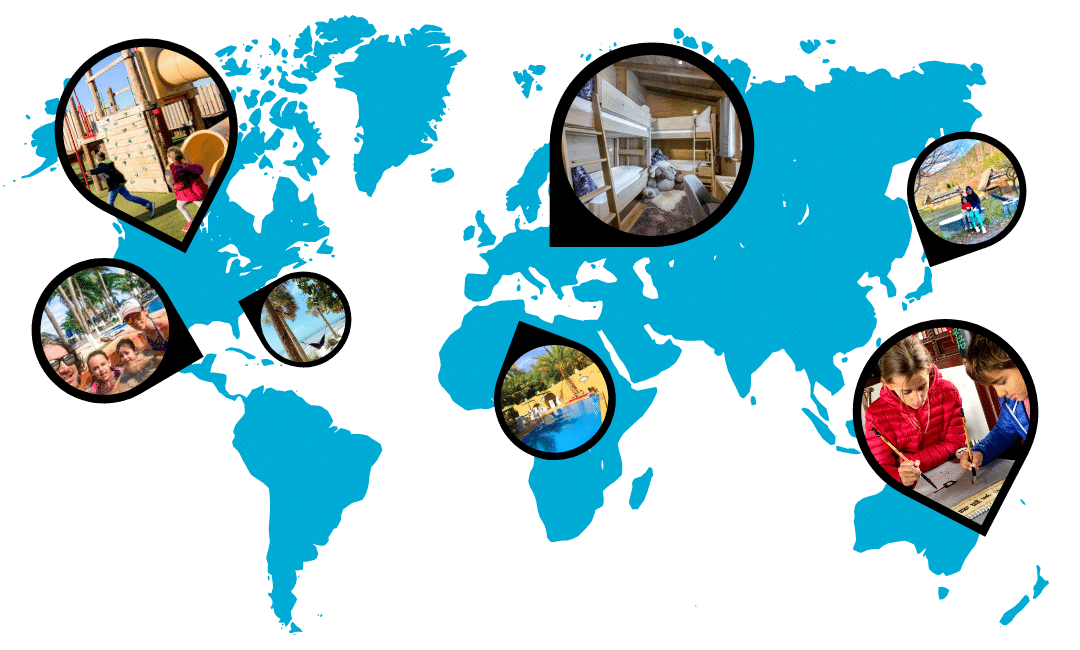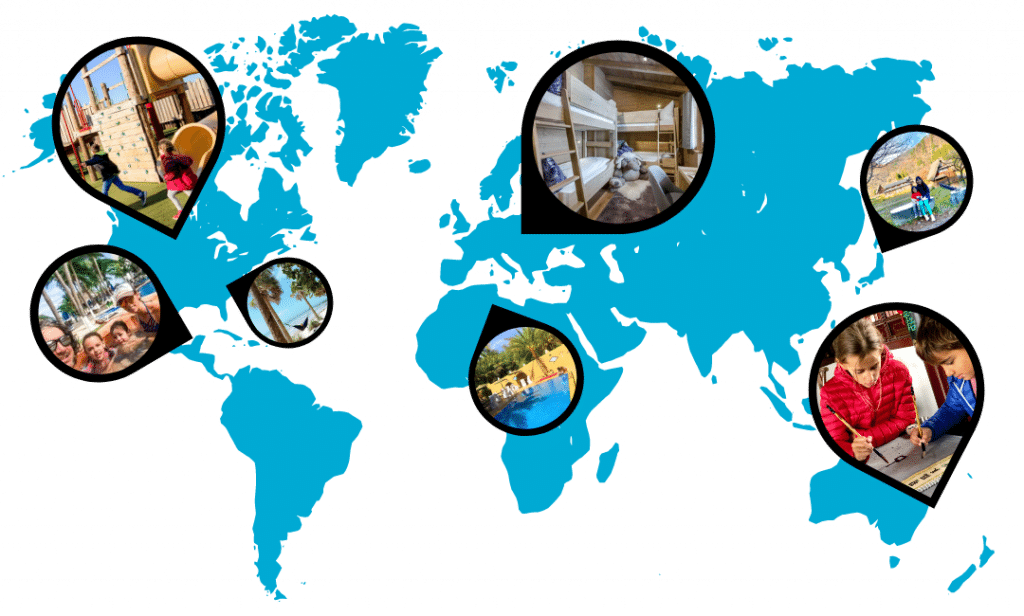 The Gowhee network is present in 50+ country already such as the United States, Mexico, Canada, Costa Rica, France, U.K, South Africa, Australia, Japan, Croatia, Greece… all locations are added by parents themselves. 
5. Disney World in Orlando, Florida
If you're fleeing the cold this Christmas, look no further than Disney World in Orlando, Florida! You can stay in one of the many hotels they offer on-site, all of which are kid-friendly! Take your kids to Magic Kingdom to see Cinderella's Castle, go to a meet-and-greet of your kids' favorite characters, or eat a delicious festive feast at Epcot!
The light displays are always spectacular in Disney parks. But we think that being able to see Santa Claus on a boat or motorcade is something that you can only see in this magical place!
Find things to do with kids and places to stay in Orlando, Florida here.
6. Seneca Falls, New York
The town in the classic Christmas movie It's a Wonderful Life was based on this real-life town! Take your kids to the It's a Wonderful Life Museum or the Kid's Holiday Market! Give your kids a taste of small-town life by taking them to Seneca Falls this holiday season!
7. Lake Louise, Canada
Step into a winter wonderland at Lake Louise, in the heart of the Canadian Rockies. Lake Louise is the iconic turquoise glacial lake in Banff National Park.
While there are many great hikes and canoe rides to do in the summer, the wintertime is a magical time to visit. Your kids will love getting to experience Lake Louise for their Holiday celebration. 
Because who doesn't like to celebrate the holidays in a place that looks just like the North Pole?!
In the winter, the lake turns into an ice rink and a cross-country skiing trail.
Ice Skates can be rented at the Chateau Ski and Snow Rentals, right by the Fairmont Lake Louise lobby.
Not really into ice skating? There are many other activities to do with kids, such as dog sledding, or taking an ice walk tour to admire the waterfall.
You can also book a horse sleight ride and have a different experience of Lake Louise.
The 45 to 60 minutes horse sleigh ride are offered multiple times throughout the day.
There is even an evening tour where you can see the illuminated Fairmont hotel.
8. Honolulu, Hawaii
If you're not into snow and ice, head on over to Honolulu, Hawaii with your kids for Christmas vacation! You can build a "snowman" in the sand, watch a Christmas fireworks display on the beach, go to the Hukilau Marketplace, or see the city lights!
For families wanting to seat and relax, take a look at the Holiday lights tour, where a double-decker bus takes you around to discover all the Christmas light display, Honolulu city has to offer. The staff is great at making the 2hrs ride magical, with stories, songs, and of course an appearance of Santa!
Honolulu is a never-ending beach vacation with tons to do, making it a perfect tropical Christmas vacation!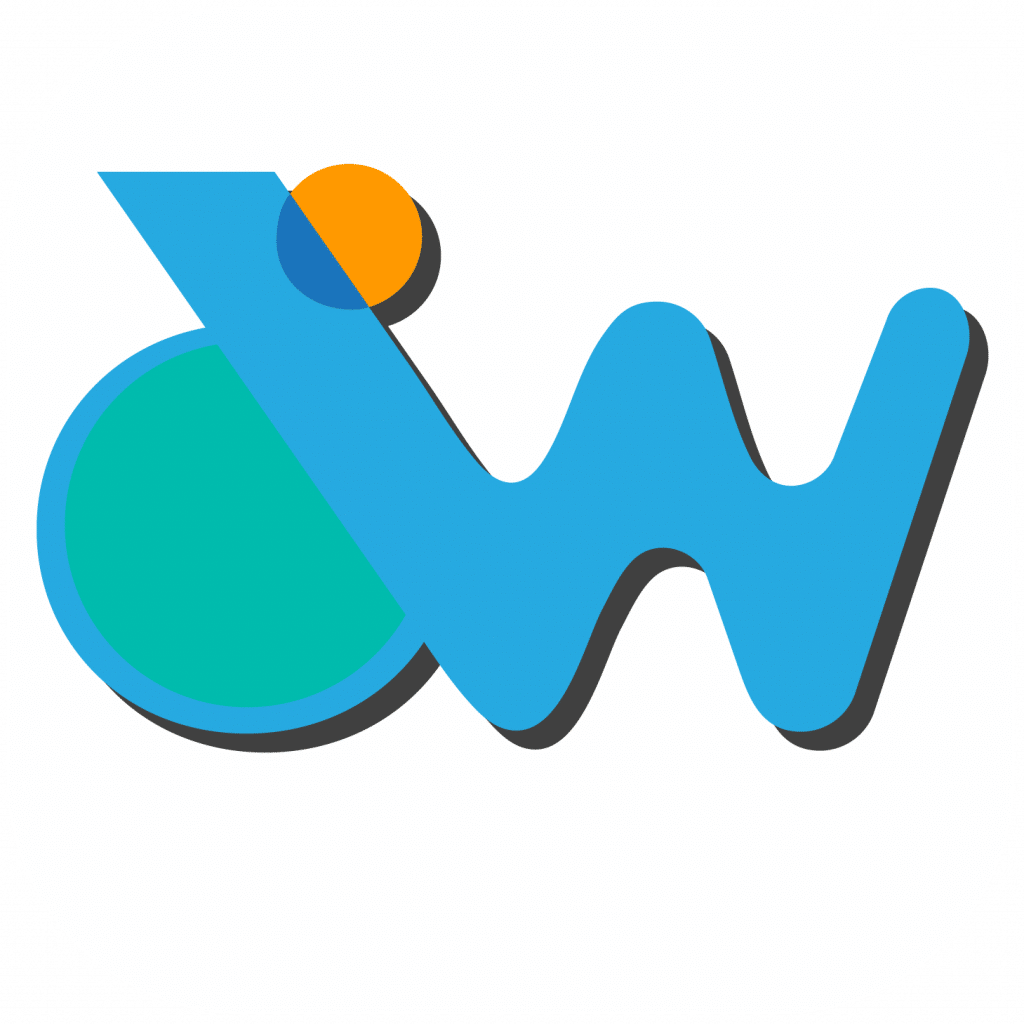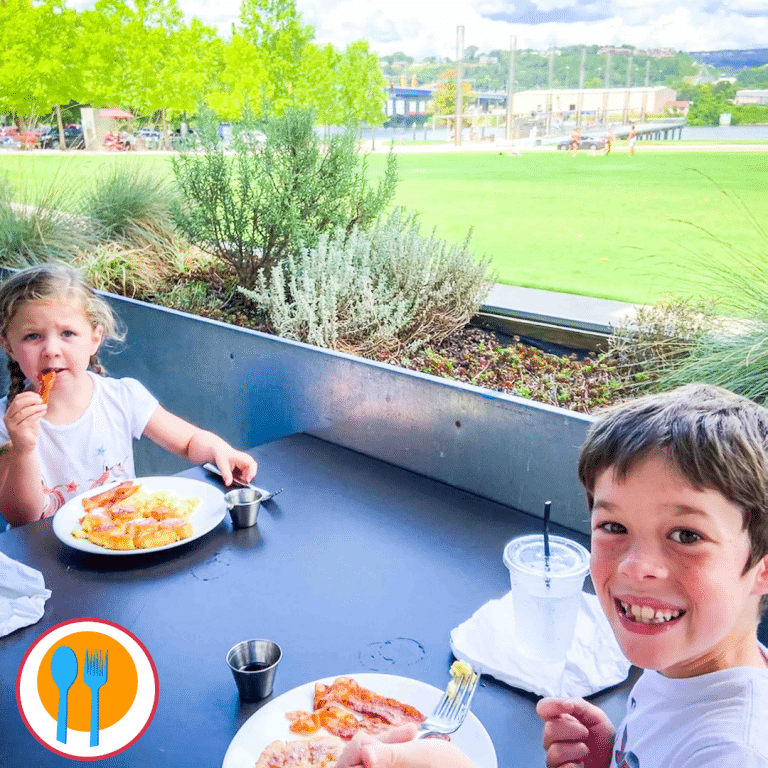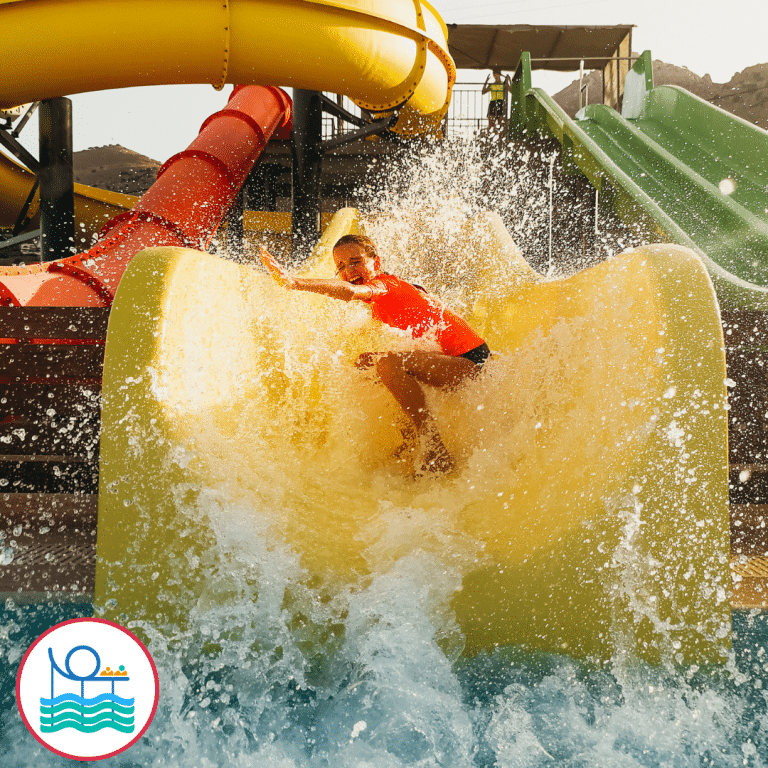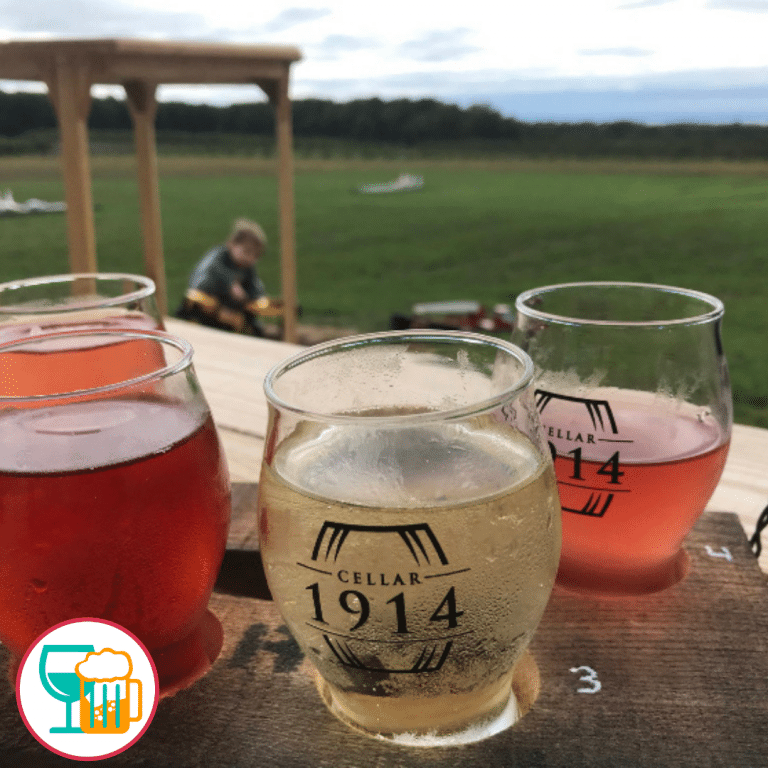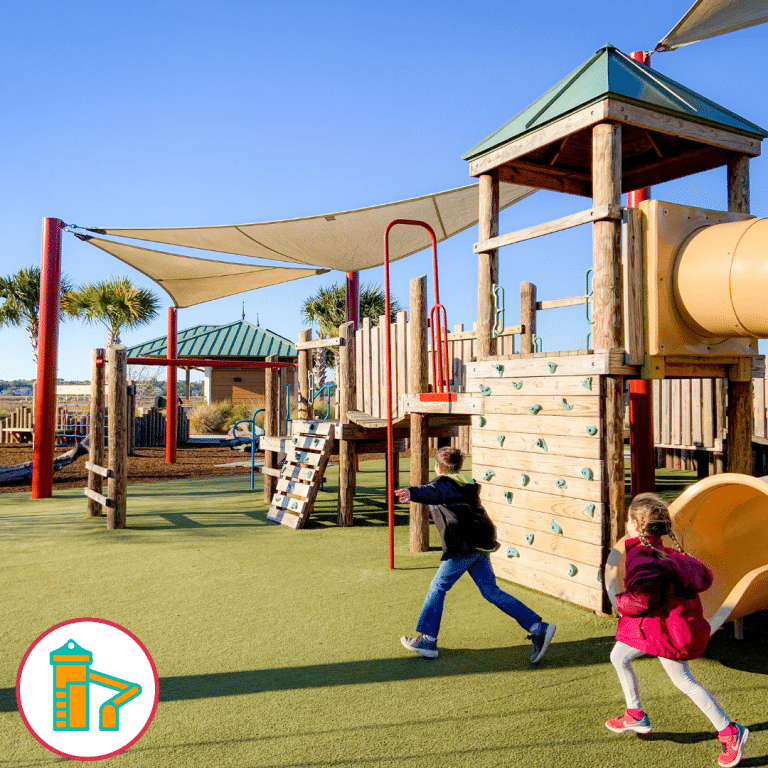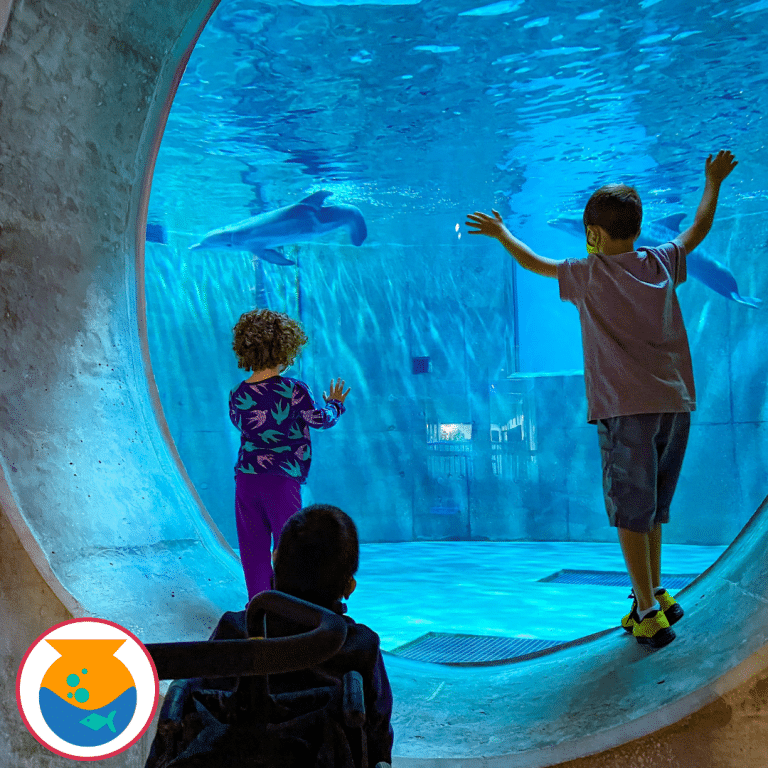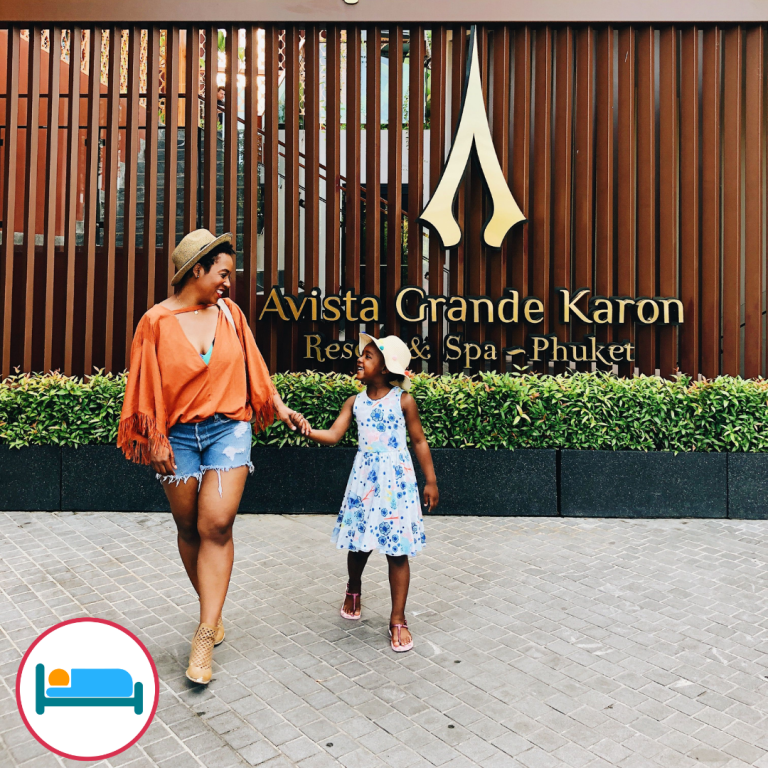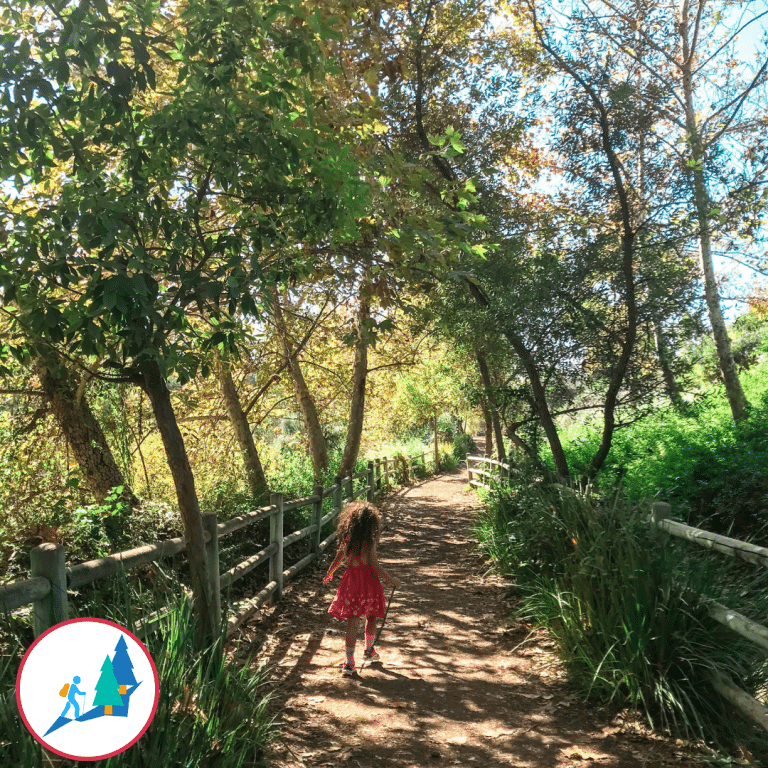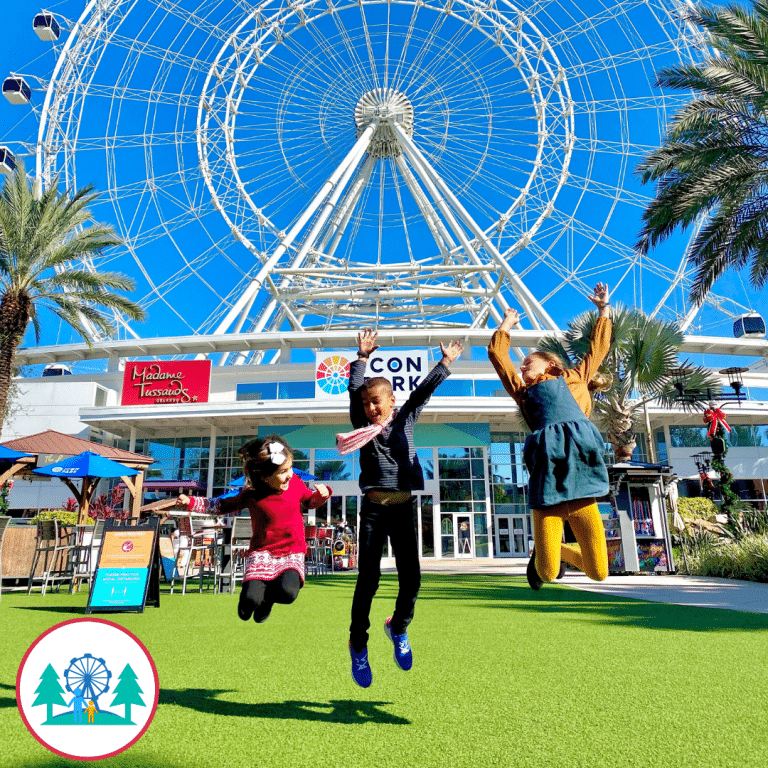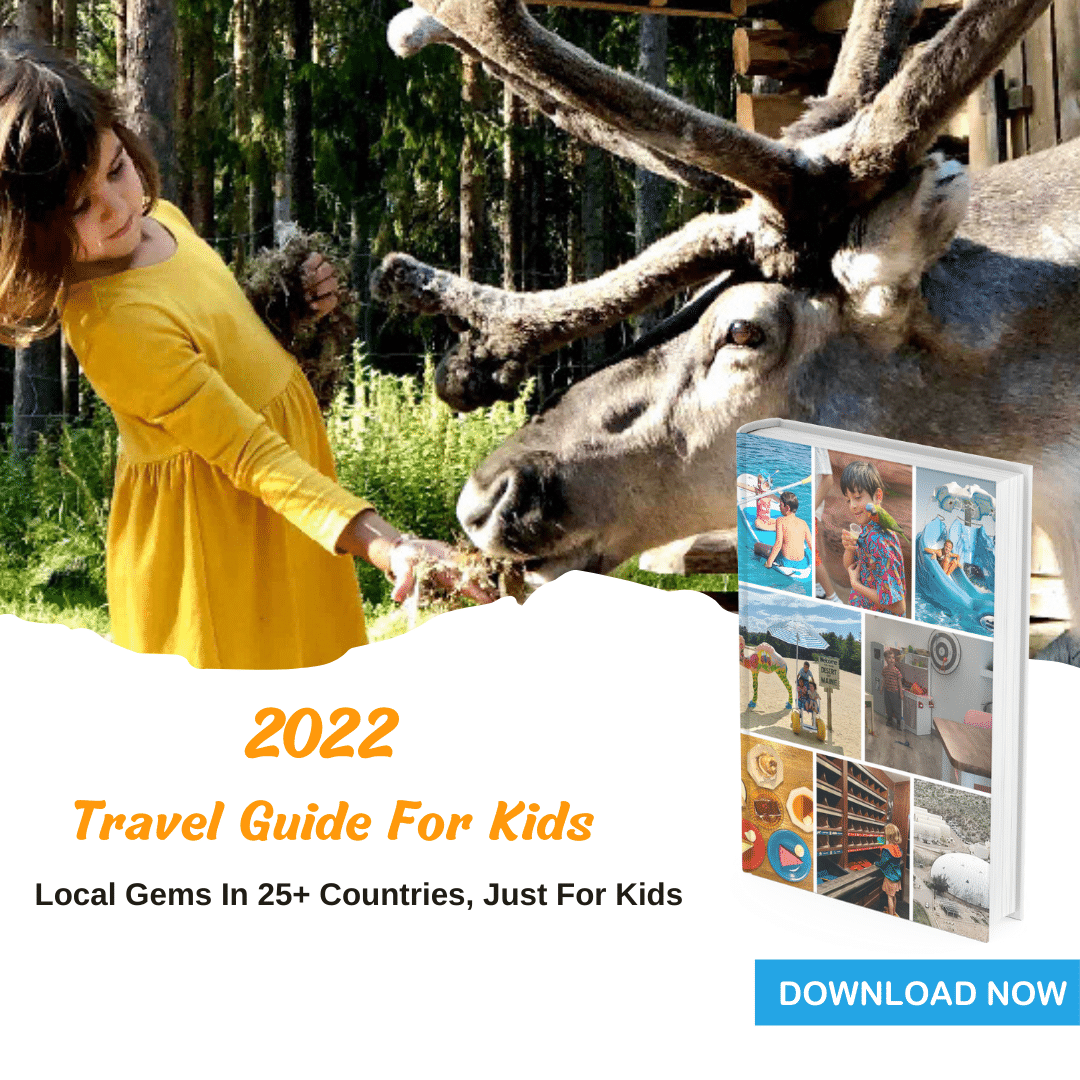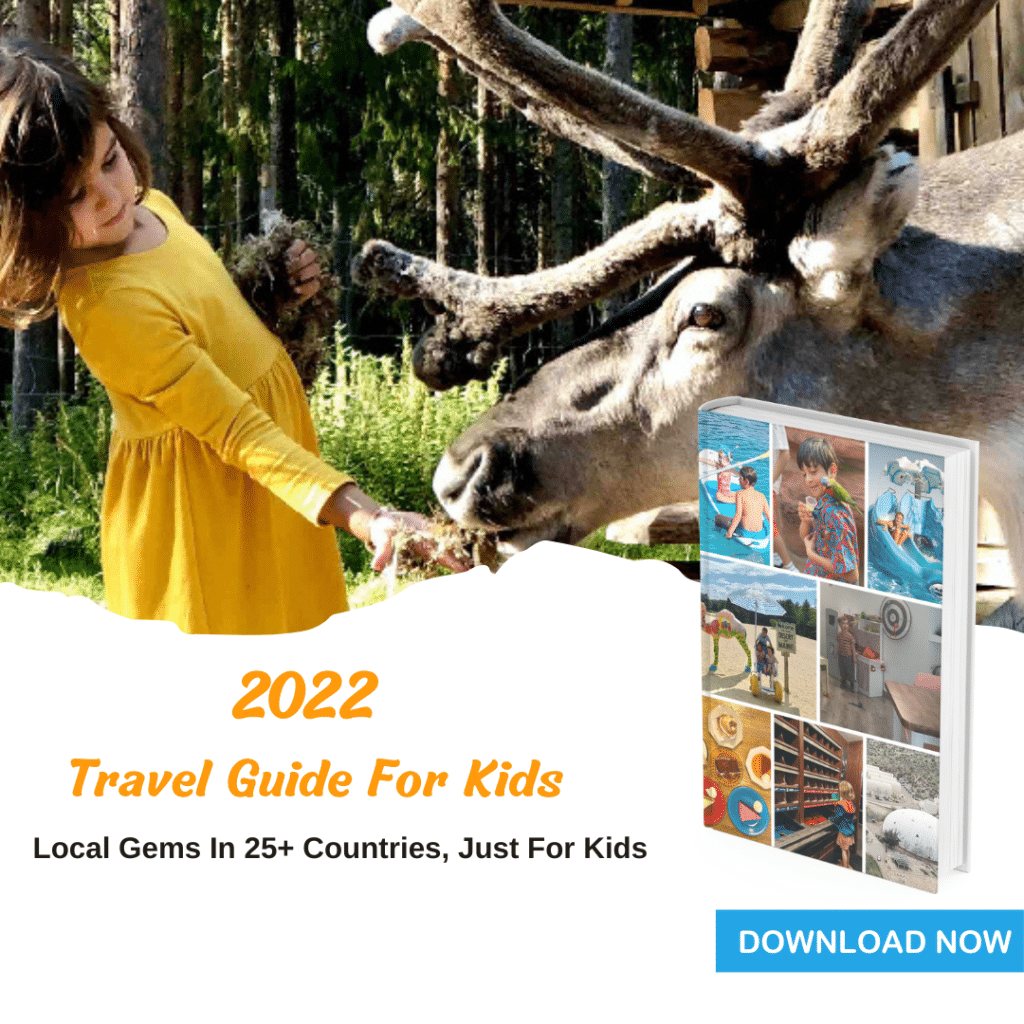 FREE 2022 World Travel Guide for Kids
Join our community and receive our 2022 guide of local gems for kids in 25+ countries. You will get free itineraries for kids, travel tips weekly, right in your inbox.
Psst… We don't spam our people, we don't share your info!
9. Park City, Utah
Park City, Utah is a winter wonderland filled with kid-friendly Christmas activities! The Park City downtown area comes to life during the holiday season with Christmas markets, lights, festivals, and snow.
If you're visiting with kids, be sure to check out the North Pole Express at the Heber Valley Railroad.
It is a 90-minute train ride through the snowy mountains filled with hot cocoa, cookies, and a visit from Santa.
The North Pole Express runs from November 23 through December 23.
Park City Mountain also has a bunch of fun events running from December 20 through January 5.
There is a fun Mountain Torchlight Parade that is held every year along with Santa appearances and fireworks.
The parade is held at dusk on Christmas eve.
Along with the Christmas events, there are also lots of fun things to do in Park City.
Utah Olympic Park is a great place to explore as well as the historic district.
The historic district is also decorated during the holiday season and is the perfect place to pick up a Christmas present.
Don't forget that Park City is home to some of the best snow for skiing and snowboarding in the country. There is a ski lift right downtown making it easy to head up for a day at Park City Mountain.
If skiing, isn't your thing, be sure to look into the sleigh rides in Park City.
Some of them even come with dinner!
10. Steamboat Springs, Colorado
Nicknamed Ski Town USA, Steamboat Springs has more of an indie atmosphere to it with numerous independent stores and restaurants that have offer local flair.
You can see Santa riding on horseback, ride in a horse-drawn sleigh, or get some festive souvenirs at the local shops! There's nothing quite like spending Christmas vacation in a quaint small town this holiday!
Things to note about Steamboat Springs is that it is located about 3 hours away from
Denver
,  and
much less crowded than some of the most popular and expensive ski destinations in the state
.
While many visitors come here for skiing, there are plenty of other things to do here.
For example, Steamboat Hot Springs at Strawberry Park is a great place to soak up and relax after a day of adventures.
Another fun non-ski experience in Steamboat Springs is a hot air balloon ride that can be taken year-round.
Winter is the best time to do it because soaring above the snow-covered Yampa Valley – home of Steamboat Springs – is pure magic! 
11. Yosemite National Park, California
You may not think of Yosemite National Park as a good place for a Christmas vacation.
However, the holidays offer a vast array of amenities the whole family can enjoy! 
For instance, you can go to the Curry Village Ice Skating Rink, go skiing at Badger Pass, or go to a Gingerbread House Workshop! 
Yosemite is not only a National Park but also a great Christmas vacation destination to take your kids to this holiday!
12. Copenhagen, Denmark
If you're looking for a change this Christmas, head on over to Copenhagen, Denmark! You can watch the annual lighting of the Christmas tree, go to the Tivoli Gardens Amusement Park, or go to a local eatery and try all the festive treats!
Did you know, that Danemark's celebration is focused on Christmas Eve? It is the perfect chance to enjoy the decadent dinner named "Julefrokost", filled with crispy pork rind, caramelized potatoes, and the traditional desert: Risalamande
But what the kids will enjoy the most is that gifts are often exchanged the night before Christmas. Give your family a Christmas fairytale experience by going to Copenhagen this holiday season! 
Tell us below, what is your plan for the holiday season?