Traveling with kids and pets? How to stay organized.
Traveling with kids and pets can be a complicated endeavor if you don't stay organized. Both kids and pets require a lot of care and attention to stay happy and occupied throughout your trip. However, there are a few simple tips that will not only keep you organized but sane throughout the trip!
Here are our best tips for Traveling with Kids and Pets:
Prep Your Kids and Pets for Traveling
Prepping your kids and pets for the journey ahead will make for smooth sailing during the vacation. First, you need to make sure your pet can walk on a leash and can sit in a carrier for several hours. You also need to make sure your pet doesn't get carsick or anxious on flights. If they do, you may need to give them something to calm them down pre-travel. During the car ride or flight, it's equally as important to have collapsible food and water bowls, a blanket, and a toy to keep them comfortable. Your kids, on the other hand, will be fine as long as you give them snacks and some form of entertainment!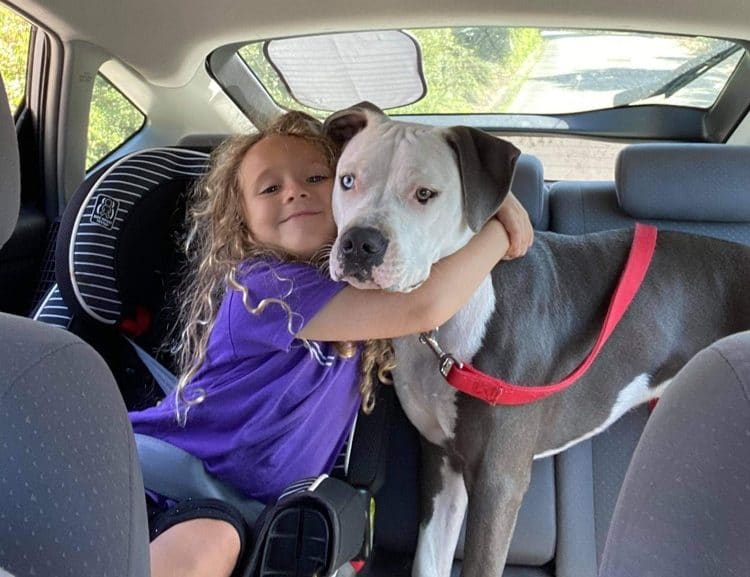 Bring the Right Carriers (for your pets, not your kids)
When traveling with pets, you're going to need a proper carrier so your pet stays contained. When traveling by plane, your pet will need to remain in a carrier for the duration of the flight. Fortunately, airlines are very pet-friendly and can accommodate your pet for a safe flight. Just make sure to label the carrier "Live Animal" so people don't mistake it for luggage. When traveling by car, just make sure your pet is comfortable in their carrier, letting them out to stretch and use the restroom regularly. You might also need to work with your pet on getting used to their carrier so they're not anxious and know what to expect.
Find Kid and Pet-Friendly Accommodations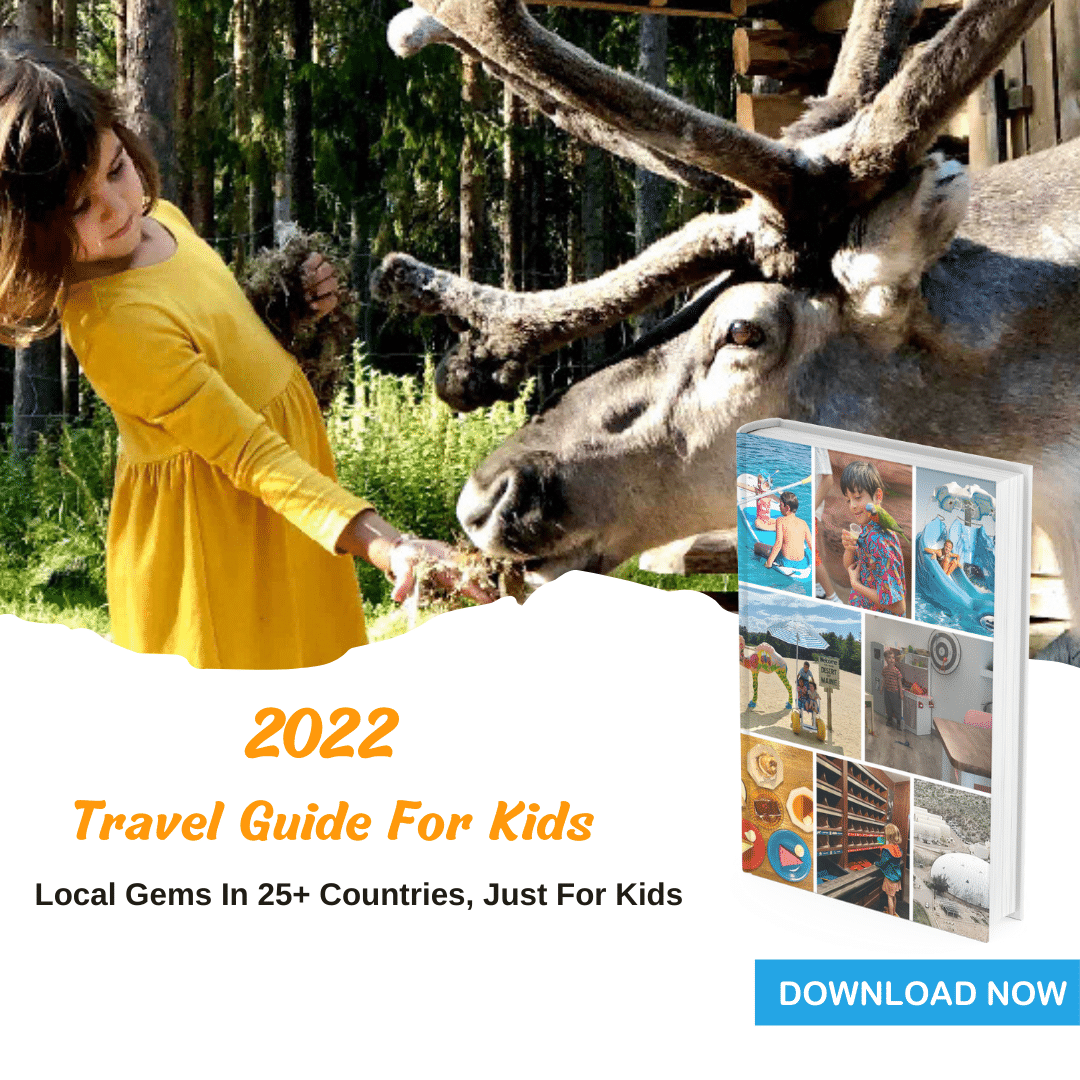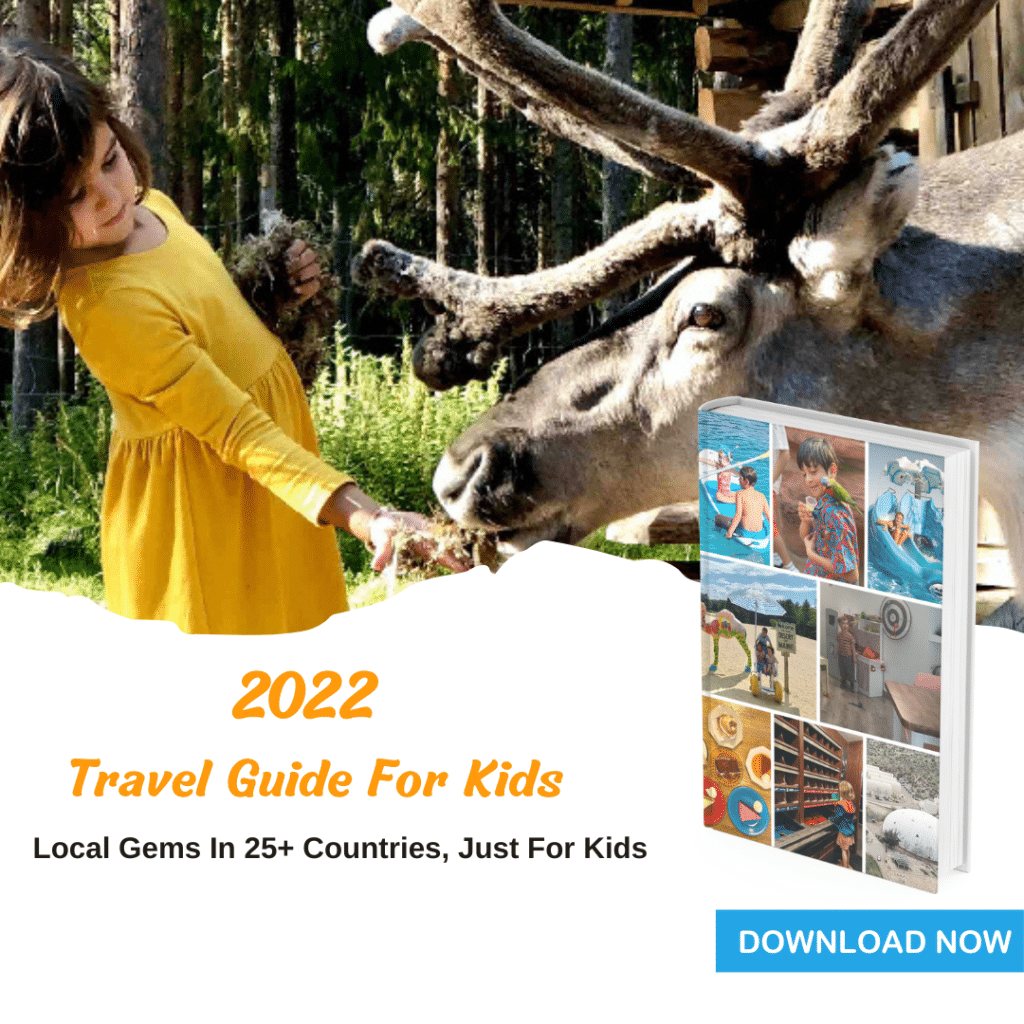 FREE 2022 World Travel Guide for Kids
Join our community and receive our 2022 guide of local gems for kids in 25+ countries. You will get free itineraries for kids, travel tips weekly, right in your inbox.
Psst… We don't spam our people, we don't share your info!
When traveling with kids and pets, you need to make sure your lodging accommodations are kid and pet-friendly. Hotels will sometimes have pet-friendly rooms for both you and your furry friend to stay in. The hotel may also offer a bed for them to sleep on, food and water bowls, and even a designated spot for them to go to the bathroom. As for kids, the hotels may offer special amenities such as kid-friendly buffets, swimming pools, arcade rooms, and even sports complexes! Another promising accommodation for both kids and pets is an Air BnB. You can filter for kid and pet-friendly stays where you might have a room or an entire place to yourselves!
Making an itinerary is one of the best ways to ensure you're staying organized and hitting all the places you and your kids want to visit! If you're not sure where the best pet and kid-friendly places are, download the GoWhee app. You can filter for kid-friendly restaurants, attractions, and other events going on in the local area! When you have a mapped-out plan of your day, you're much more likely to stay on schedule and be less stressed.
Traveling is a large expense. Traveling with kids and pets can tack even more onto the bill. To make your vacation budget-friendly yet still have fun, make a budget that accommodates everyone and makes the trip memorable. To stay within budget, you can find affordable accommodations, restaurants, and travel arrangements, and activities using the GoWhee app! There are plenty of free or low-cost activities that won't break the bank like walking around town, going to a town event, or going on a hike!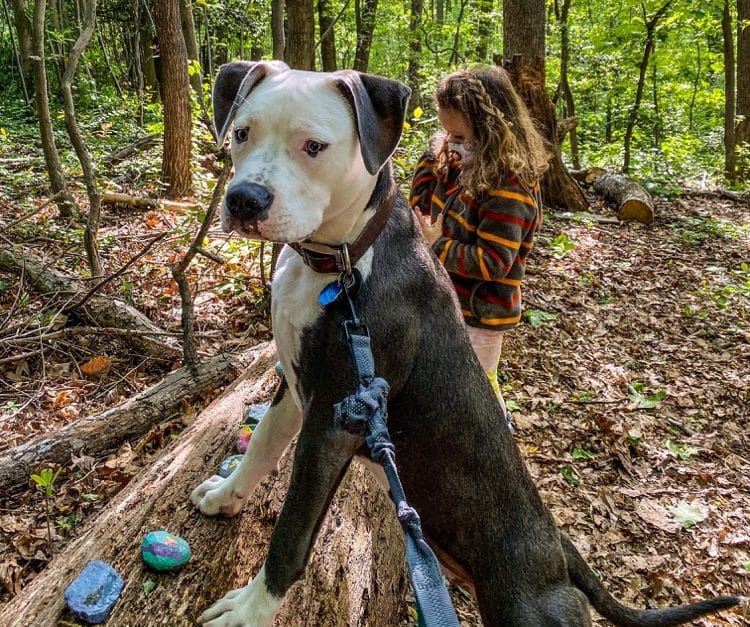 Bring Plenty of Food and Water
When traveling with kids and pets, it's important to bring plenty of food and water. You never know how long you'll be out and about and you don't want your kids or pets to go hungry or thirsty. Make sure you have plenty of water bottles, prepackaged snacks, and pet food with you in case of emergencies. You can also use the GoWhee app to search for local restaurants or grocery stores nearby without falling behind schedule!
Take Your Kids and Pets to Pet-Friendly Places
Outdoor adventures like hikes or walking tours are a great way to get both the kids and pets involved! Hikes and outdoor tours are a great way to expend some energy and dive deep into nature. If you want to do a little shopping, you can also go to an outdoor shopping mall and bring your pets with you! Plus, you won't have to leave your pet at a pet hotel or kennel because they'll be able to join in on the fun with you!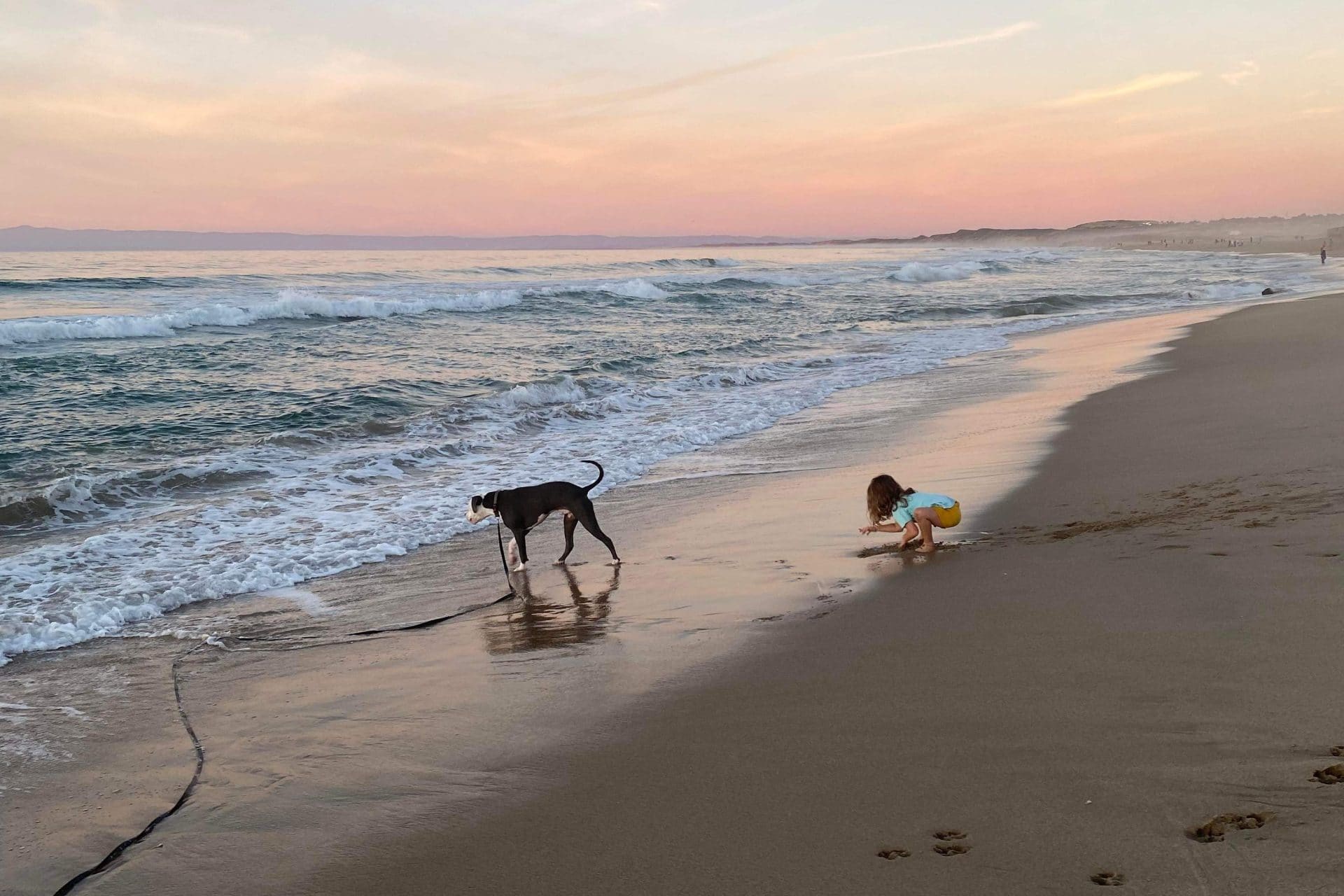 Takeaway
Using these tips will ensure your vacation runs smoothly while you, your kids, and your pets make some long-lasting memories! Try out these tips and let us know how they work out for you. If you have any suggestions or comments, feel free to let us know in the comments below!
Need to find fun things to do with kids?
Find places for kids near you or around the world in seconds. 
Gowhee App is the perfect tool to keep the kids busy and parents happy!
Try Gowhee App Now
Discover scenic drives, great salt lakes, and kid-friendly ski resorts....
Read More


Find kid-friendly locations in 50+ countries and more added daily...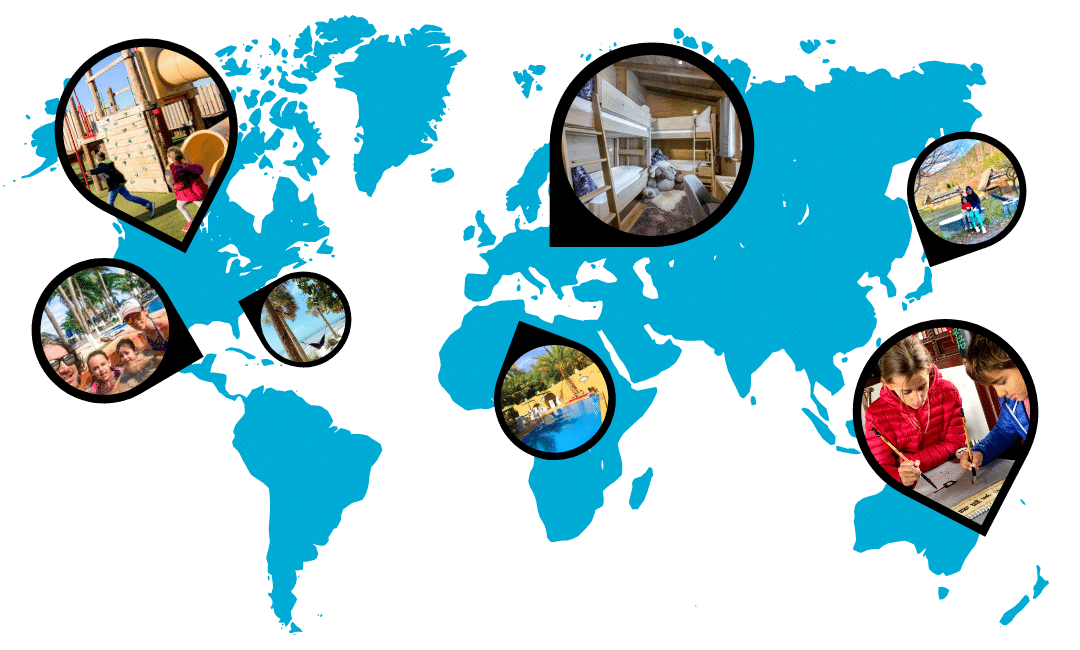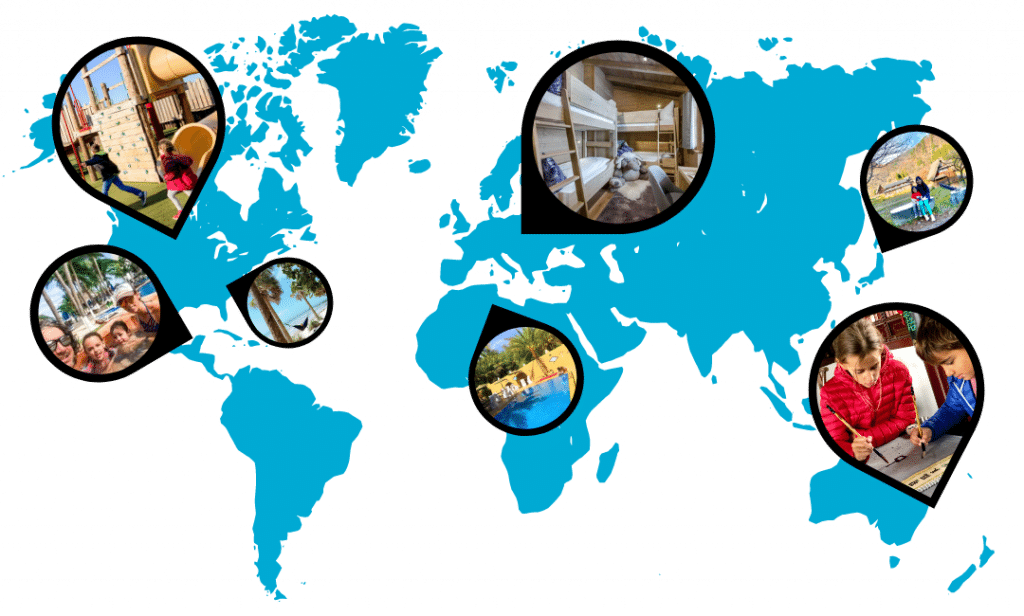 The Gowhee network is present in 50+ country already such as the United States, Mexico, Canada, Costa Rica, France, U.K, South Africa, Australia, Japan, Croatia, Greece… all locations are added by parents themselves.