20+ Things To Do in Austin, Texas with Kids
Facebook
Twitter
Pinterest
Email
Print
There are many great things for families to do in Austin, Texas. With both outdoor and indoor experiences available, the kids will never get bored. Enjoy a hike and zipline through Austin Hill Country, spend a day at an adventure park, visit Austin's great museums and science centers, and so much more. Parents will love the many kid-friendly restaurants to stop in and refuel before heading out for more fun in this amazing city.
Here are 20+ things to do in Austin, Texas with kids. Check out the Gowhee app to find even more great locations, recommended by local and traveling parents.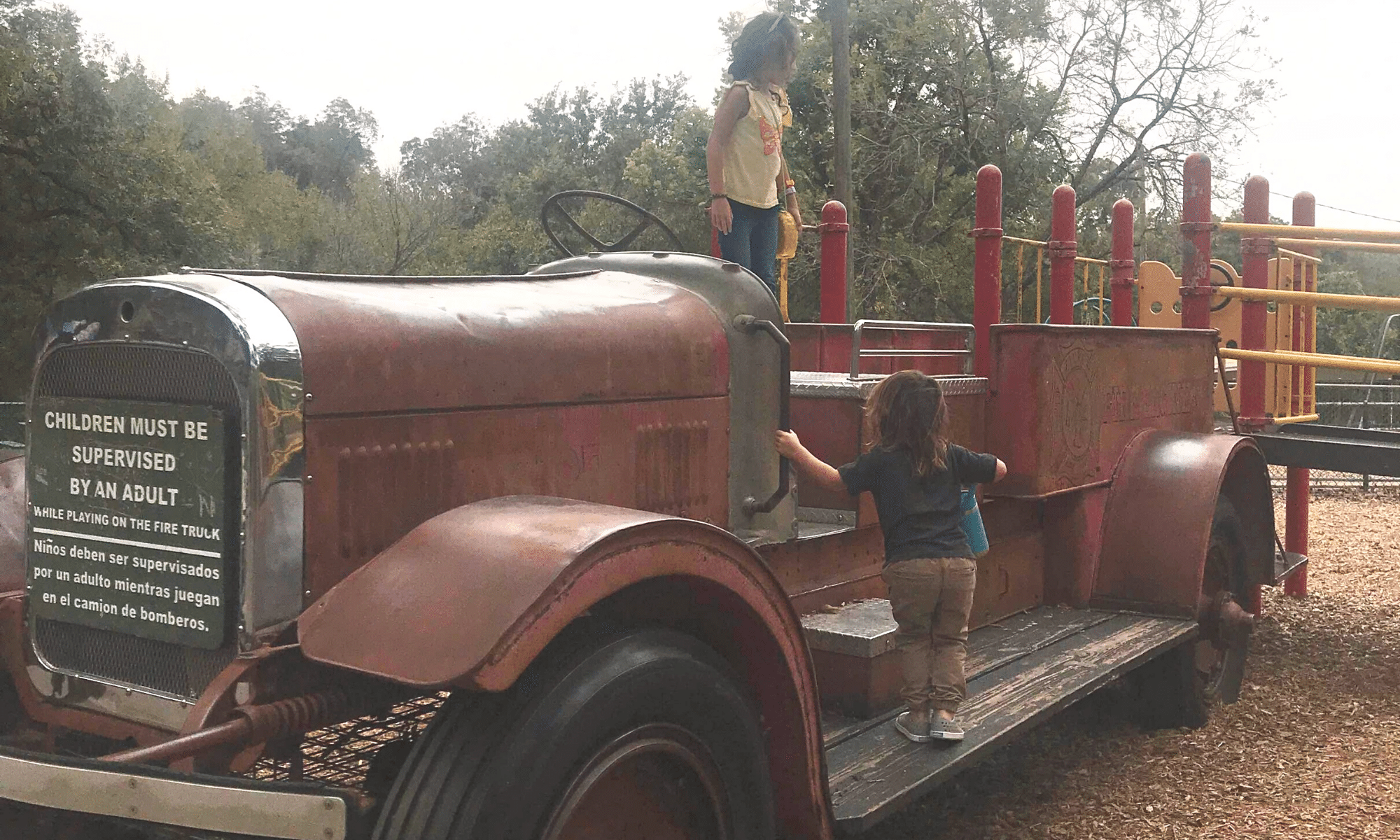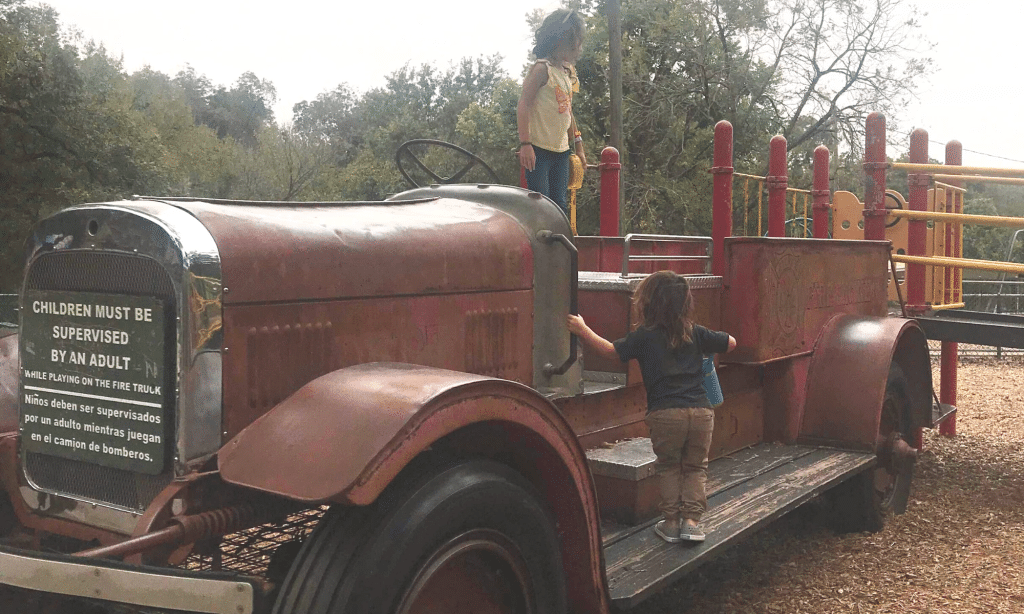 1. Play & Swim at Zilker Metropolitan Park
Zilker Metropolitan Park is a natural oasis in downtown Austin. It's home to picnic facilities, playgrounds, a train, botanical gardens, the free Austin Nature and Science Center, and the Barton Springs pool, a pool fed by local spring waters.
Key Information: Park admission is FREE – Pool admission is $9 for non-resident adults and $5 for non-resident kids – Public restrooms throughout the park.
Good To Know: The pool's waters are 68-70 degrees, perfect for year-round swimming.
>>> Discover more kid-friendly parks in Austin here
2. Experience Living History at Pioneer Farms
At Pioneer Farms, you can experience a slice of Texas history. Explore 90 acres of traditional handicrafts, blacksmithing, farming, and much more.
Key Information: Admission for adults is $8, kids $6 – Gravel paths in historic areas may be difficult for strollers – Food onsite.
Good To Know: Kids particularly love the Scarborough Barn, where they can interact with gentle farmyard animals.
3. Bike Around Lady Bird Lake
Lady Bird Lake is a long, narrow reservoir that actually looks more like a river than a lake. It's a popular recreation spot in Austin, TX, and lots of people go there to bike, boat, and have picnics.
Key Information: FREE – Hike-and-Bike trail allows both walking and riding – Public restrooms are available along the trail.
Good To Know: Austin gets 300 days of sunshine a year, so spending time at Lady Bird Lake can be a year-round activity.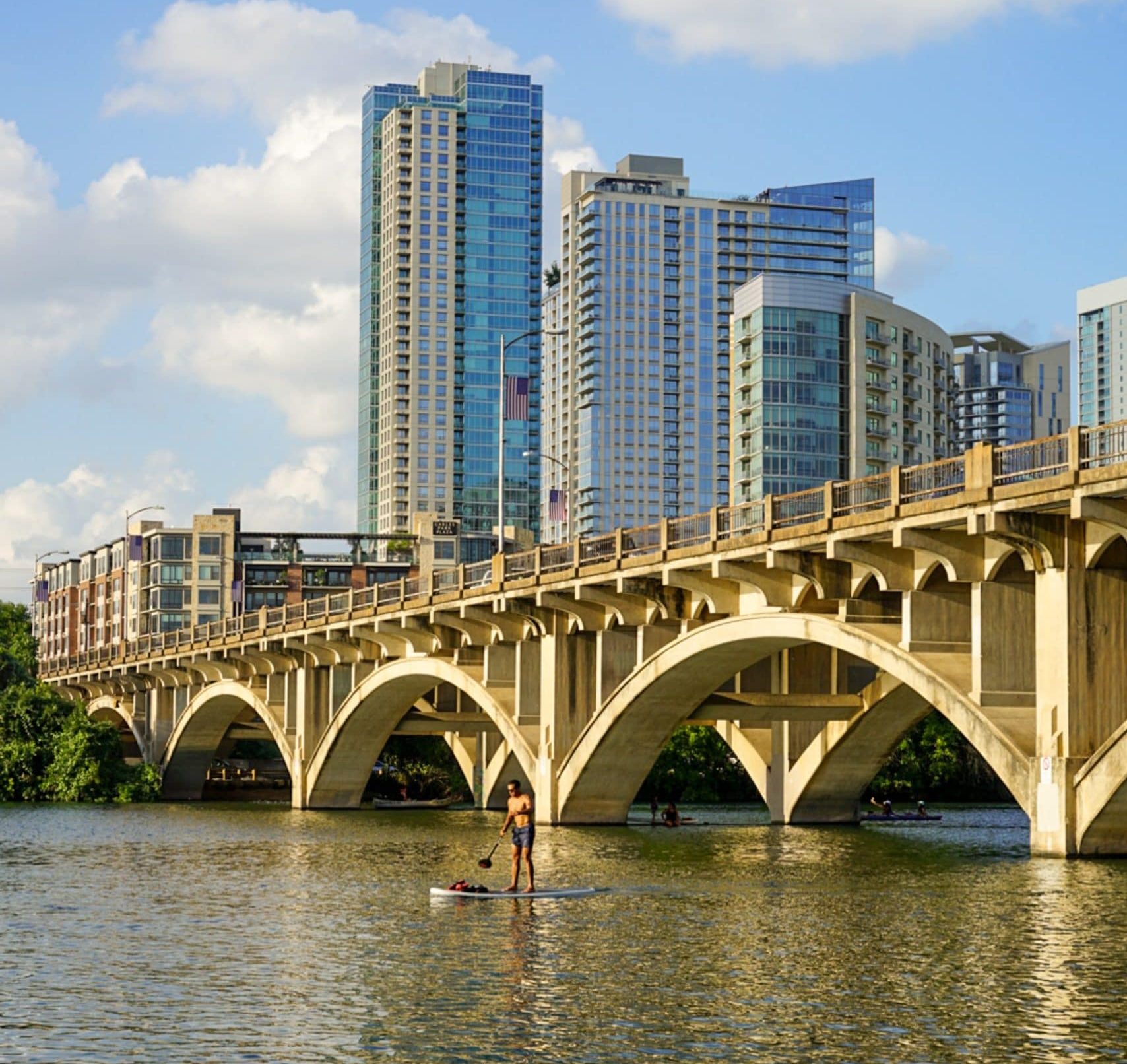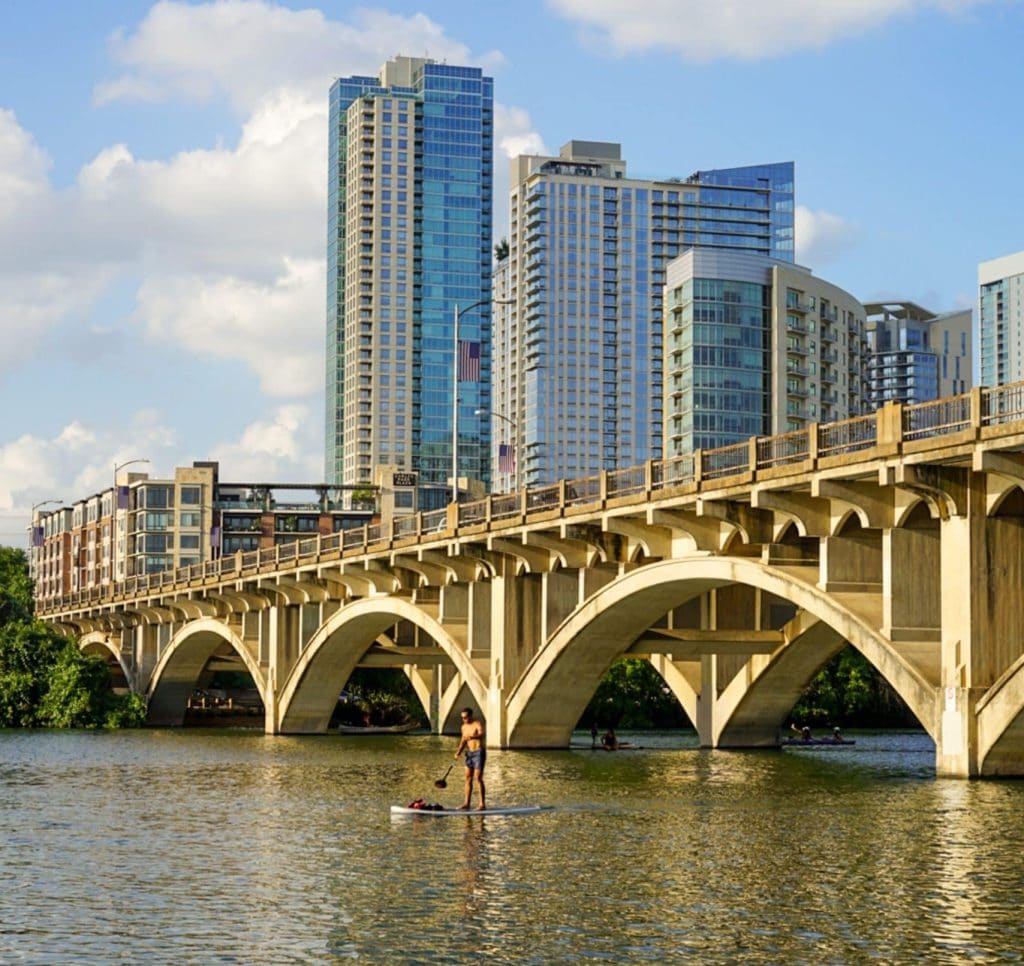 20+ Things To Do in Austin, Texas with Kids
4. Explore Exhibits at the Bullock Texas State History Museum
Texas history comes to life through numerous exhibits at the Bullock Texas State History Museum. While you're there, you can see a feature film or a short presentation in their IMAX theater.
Key Information: Admission is $13 for adults and $9 for kids – Food onsite – Bathrooms with changing tables onsite.
Good To Know: The museum has special activities designed for kids that you can download and bring to the museum!
>>> Take a look at other locals' favorite places for kids in the Gowhee App
5. Hike to the top of Mount Bonnell
Mount Bonnell is the highest point in Austin, and at 781 feet it's more of a tourist destination than a serious mountain climb. You can get a great view of downtown and the 360 Bridge from the top.
Key Information: FREE – Pet-friendly – Bring your own water and snacks.
Good To Know: The trail does have 102 steps, so it's not stroller or wheelchair-friendly.
6. Feed Alpacas at the Austin Zoo
At the Austin Zoo, you can see dozens of rescued exotic animals from around the world.Your kids can have fun feeding and petting the gentle alpacas, as well as goats, sheep, deer, and more!
Key Information: $16.95 for adults, $13.95 for kids under 12 – Snacks onsite, outside food allowed – Stroller friendly.
Good To Know: The paths are gravel, so wear closed-toed shoes.
7. Play with a Kinkajou at the Austin Aquarium
You can see lots of animals at the Austin Aquarium, but if you want to make your kids' day really special, you can use tokens to meet some of them! The Austin Aquarium is one of the only places you can play with exotic animals like kinkajous or feed red-ruffed lemurs.
Key Information: Adult admission is $19.95, child admission is $14.95 – Tokens cost $3 but are cheaper when bought in multiples – Food onsite.
Good To Know: On weekends, you can watch for the mermaid swimming through some of the exhibits!
8. Play Vintage Arcade Games at the Texas Toy Museum
The Texas Toy Museum is a passion project for kids of all ages. Adults will be whisked back to their childhoods, while kids will learn about old school cool. Admission includes unlimited free play on all of the vintage arcade machines.
Key Information: Admission is $9 for adults and $6 for kids – No food onsite, but plenty nearby – Best for kids who are old enough to play games!
Good To Know: The exhibits and dioramas are always changing, so this could be a fun repeat visit.
>>> Find tons of museums near you, here.
9. Experience an Old Fashioned Soda Fountain & Candy Shop
At the Big Top Candy Shop, you can sample vintage candies and old-fashioned sodas from the antique soda fountain. This is the perfect place to stop for an ice cream treat on a hot Texas day.
Key Information: Sodas start at $1.77 – No public restroom – Lots of allergen-friendly options.
Good To Know: The store has fairly narrow aisles, so if it's crowded you'll want to fold up the stroller and leave it by the door.
>>>MUST-READ:12+ Great Inspirations for a Family Vacations in Texas<<<
10. Explore Tom Foolerys Adventure Park
If you're staying at the Kalahari Resort or just want to stop in with a day pass, your kids will love the hands-on Tom Foolerys Adventure Park. Kids can enjoy the thrilling rides and interactive playgrounds, as well as the super fun arcade.
Key Information: A day pass is $49.99 for people over 42 inches tall and $29.99 for people under 42 inches tall – Close-toed shoes required – Rides have various height requirements.
Good To Know: If you want to keep the family fun going, Tom Foolerys also offers bowling!
11. Enjoy Some of Austin's Best BBQ at Rudy's Country Store BBQ
What's a family vacation in Texas without some great BBQ? Everyone loves Rudys! This great little store offers some of the greatest BBQ to-go or self-serve options. Kids will also love the playground and outdoor area
Key Information: Budget-friendly meal – Great for takeaway – Changing tables in bathrooms available.
Good To Know: There are many locations so this allows us to be flexible, the one recommended by local families is on highway 360 S.
>>> Discover more kid-friendly restaurants in Austin here
12. Go Bat Watching at Sunset
Austin is home to the largest population of urban bats in the United States. These helpful insect-eaters can be seen every night at the Congress Avenue Bridge.
Key Information: FREE – Bats emerge around sunset – Find a spot on the east side of the bridge, as that's where the bats emerge.
Good To Know: There's nothing to fear- the bats don't come close enough to touch people.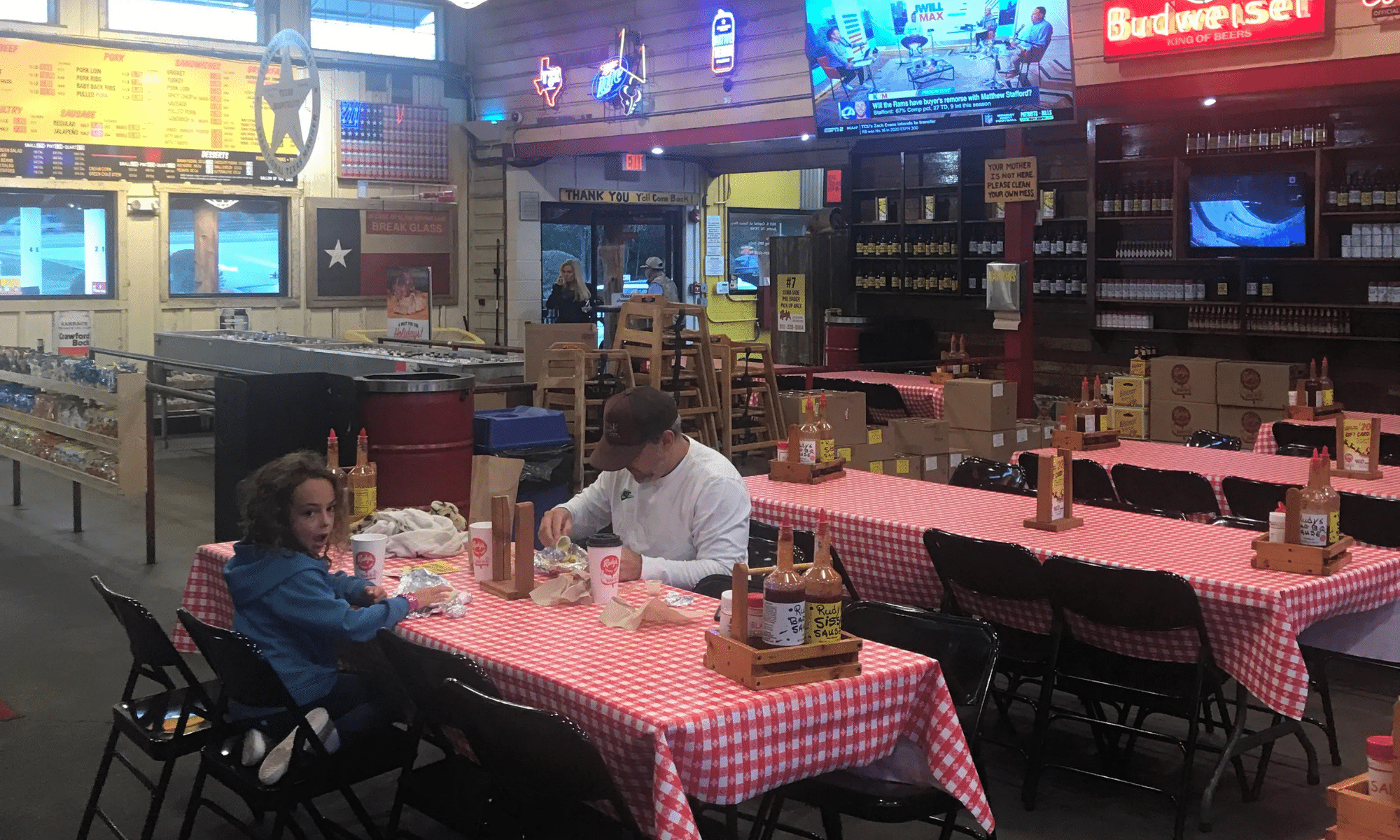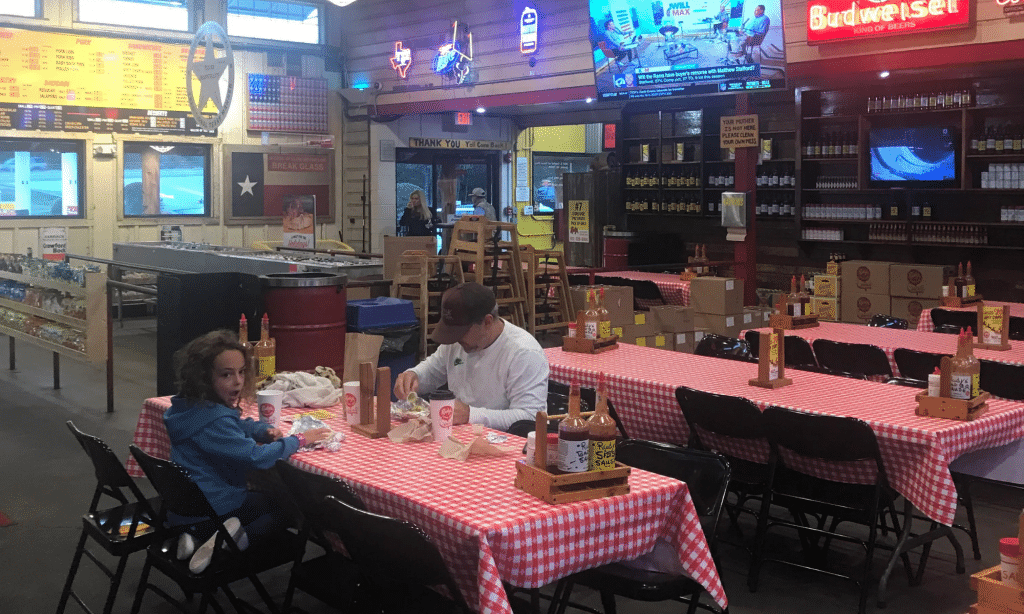 13. Hike & Zipline Through Austin Hill Country
Outdoorsy kids will love to hike and zipline at Lake Travis Zipline Adventures. Your tour involves three hours of hiking through gorgeous Austin Hill Country and five ziplines over Lake Travis.
Key Information: $135.00 per participant – Bottled water included – Children must weigh over 70 pounds to participate.
Good To Know: Your tour also gets you access to the private beachfront, where you can relax, swim, and play games.
>>MUST-READ: 25 Family Travel Tips Fo A Hassle Free Vacation<<
14. Dig For Fossils at the Austin Nature & Science Center
At the Austin Nature and Science Center, your kids can dig for fossils in an enormous outdoor playscape called the Dino Pit.
Key Information: FREE – No food onsite – Stroller-friendly.
Good To Know: The ANSC is also home to an exhibit of Texas wildlife, which is very popular with kids.
15. See What's Blooming at Zilker Botanical Garden
The Zilker Botanical Garden is a floral adventure in South Austin. With several trails and themed gardens, there's something to delight everyone.
Key Information: Adult admission is $8 for non-residents; non-resident child admission is $4 – ADA accessible trail – Bring your own food for a picnic.
Good To Know: The Prehistoric Garden, with its life-sized dinosaur statue, is a kid favorite.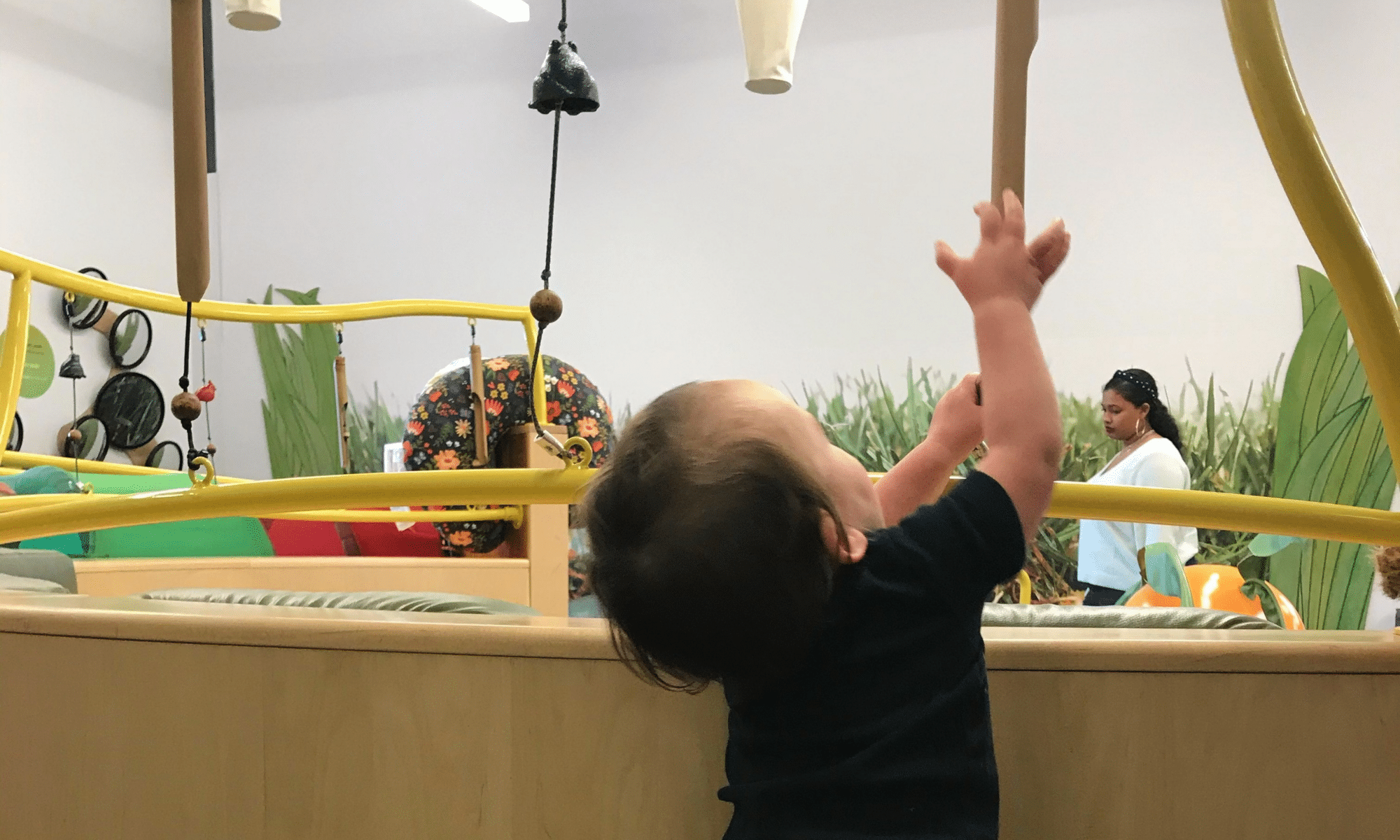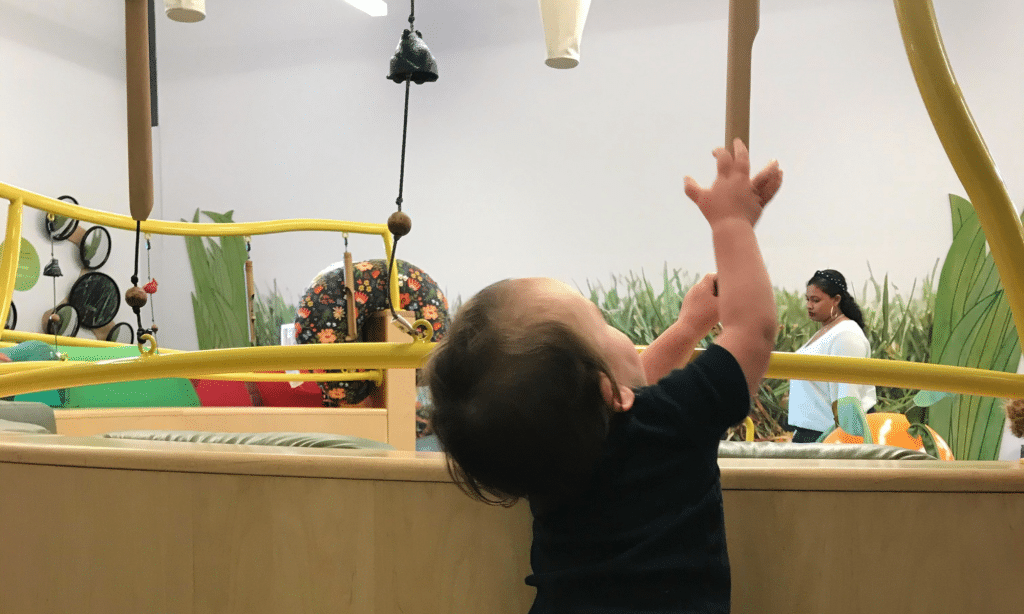 16. Learn Through Hands-On Experiences at the Thinkery
The Thinkery children's museum has floors of interactive exhibits for your kids to enjoy. It's full of explorative play experiences that engage all of the senses.
Key Information: Admission is $16 – Fully ADA accessible – No food onsite.
Good To Know: Check out the special events calendar for themed experiences and community nights!
>>> Discover more indoor activities for kids here
17. Play 18-Holes at Peter Pan Mini Golf
At Peter Pan Mini Golf, Austinites have been enjoying the game since 1948. The whimsical, imaginative course design is an Austin tradition. The courses are considered city landmarks.
Key Information: $8 for 18 holes, $12 for 36 holes – Plan for about 1 hour for 18 holes – Food nearby.
Good To Know: Peter Pan Mini Golf is BYOB, but they do ask that you don't bring glass bottles.
18. Cool Off on the Splash Pad at Pease District Park
The Pease District Park is a great park for kids. In addition to the splash pad, there's a brand new playground, a nature play area, and a treehouse just for kids!
Key Information: FREE – Public restrooms available – Picnic tables and shelter onsite.
Good To Know: If you'd like to add a little education to your outing, Peasecology is a helpful way to identify many of the plants in the park!
Discover More Places for Kids in Austin Texas
Try the Gowhee App for FREE today.
19. Enjoy Dinner & a Movie at Alamo Drafthouse Cinema
The famous Alamo Drafthouse Cinema isn't just for adults! Families can enjoy an afternoon out when the Alamo for All rules are in play. This program is great for kids with sensory issues because the lights are up, talking and moving around is allowed, and all ages are welcome.
Key Information: Ticket prices vary per theater and showtime – Kid-friendly menu options – Restrooms onsite.
Good To Know: The Alamo Drafthouse is usually not kid-friendly. Unless you are going to an Alamo for All show, young children and infants are not admitted.
20. Tour Austin in an Amphibious Vehicle
Enjoy guided tours of Austin from two perspectives when you ride with the Austin Ducks! These amphibious vehicles will show you the best that Austin has to offer on land and on Lake Austin.
Key Information: Adult tickets are $34.95; child tickets are $21.95 – No restrooms on the duck – Tours last 75 minutes.
Good To Know: Kids don't need to wear life jackets on this tour– the ducks are proven unsinkable, and the sides and seating are perfectly safe.
Did we miss any of your favorite kid-friendly activities in Austin, Texas? Let us know in the comments.